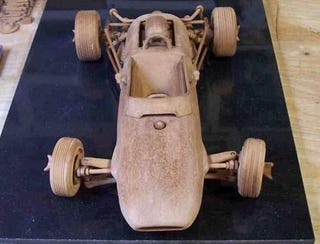 Gary Tatman builds models cars. More specifically, he carves replicas of the coolest race cars of all time from simple wood. Dazzlingly accurate models of the Lotus 33b, Porsche 917K, the Ford GT40, and the Tyrrell P-34 below.
Hemmings Auto Blogs caught up with Gary at the Dayton, Ohio, Concours d'Elegance (we snickered too) where he was showing his amazing little cars. A millworker by trade, Gary picks up the leftover bits of woo normally destined for the trash and uses regular woodworking tools to carve these slick little cars. These aren't just hacked together to look pretty on the outside, they're carefully built to a crazy level of precision, according to Gary:
The hoods of the cars are removable to expose the radiators and vent openings for air flow. The front tires turn in unison, and the Porsche 917k, when complete, will be the first car with steering wheel turning capabilities. I also have a driveline mocked-up that will turn the engine cooling turbine on top of the engine with the turning of the rear wheels as you roll it! All of the shifters, handbrakes and foot pedal assemblies move. The gas caps all lock and unlock, the side view mirrors adjust, and any aero flaps would be adjustable on the car.
We're especially loving the space-frame work on the Porsche 917K. Find out more over at Hemmings Auto Blogs (Hat tip to zaddikim)