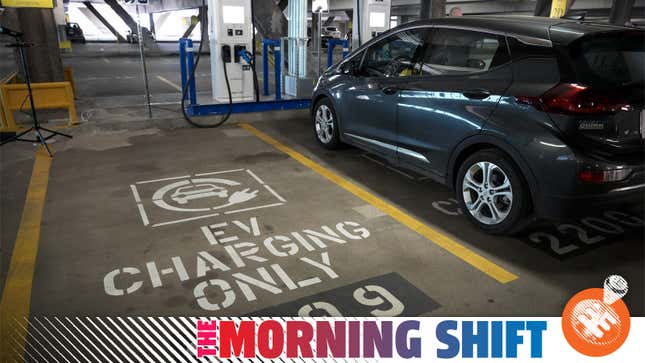 Electric vehicle and battery makers aren't the only ones having a tough time navigating the Inflation Reduction Act's rules to secure subsidies, new car sales are recovering in Europe and Tesla figured out the secret to selling EVs in China — deep discounts. All that and more in this edition of The Morning Shift for Tuesday, March 21, 2023.

Tesla's Big Discounts Worked, Sort Of
1st Gear: Charger Manufacturers Are Scrambling, Too
Most of the attention around the Inflation Reduction Act's stipulations for domestic electric vehicle production and material sourcing has been focused around batteries, but EV charging stations are included in the language, too. And if one thing is already clear, it's that the companies that build them are even less prepared than automakers for what's to come. From Reuters:
Requirements to immediately start assembling the chargers at U.S. factories and to use U.S.-made iron or steel enclosures have caught many in the EV charging industry off guard, according to company executives and industry experts. [...]

Companies and some state officials who will manage the federal funds are warning that the country currently lacks the domestic production capacity - particularly on high-speed chargers - and that strict enforcement will slow the rollout, drive up costs and possibly hurt the industry Biden seeks to nurture.

"Everyone was hoping that there would be a waiver on the Buy America and Made in America," said Aatish Patel, co-founder of XCharge North America, which imports chargers from its manufacturing plant in Beijing. "That throws a wrench in a lot of people's plans."

A requirement to source 55% of the cost of components from the United States was deferred until mid-2024, but executives expected deferrals in other terms as well.

Patel said it typically takes 12-18 months to move production from another country, adding that XCharge, one of the largest sellers of EV fast chargers in the European Union, was accelerating setting up a U.S. facility to comply with the rules, which could push costs up by about 25-30%.
It's probably no surprise that one of the few manufacturers of charging stations that is already equipped for U.S. final assembly is Tesla, whose chargers come out of its Buffalo plant. EVgo, on the other hand, is a shining example of what's transpiring across the rest of the industry that's attempting to bargain with the federal government for a little more time:
EVgo Inc, a charging network operator with more than 850 fast-charging locations, said there is a process to individually request for a deferral of the "Made in America" rules but it is unsure if the government will allow that. Its South Korean charger manufacturer, SK Signet Inc, is planning to open a Texas factory to produce up to 10,000 direct-current fast chargers annually by 2026.

But EVgo Chief Commercial Officer Jonathan Levy said there is risk that 2023 projects could wait while the supply chain catches up, and it is difficult to plan.

"You have this uncertainty. Am I going to get that waiver? Do I need to hold off? What does it look like?"

Shares of EVgo jumped nearly 10% on Feb. 15, when the U.S. government announced the new rules for chargers. Since then, they have lost about a quarter of their value. Rivals ChargePoint, Wallbox, Blink Charging Co and Tritium have dropped about 30% over the same period compared with a drop of near 5% in the S&P 500.
So all in all, not a wonderful time to be running an EV charging company, unless you randomly (and against all common sense) decided to base your assembly and an increasing percentage of the production process in the U.S. years ago.
2nd Gear: DOT Thinks These Traffic Projects Are 'Smart'
The Department of Transportation is about to dole out a total of $94 million across a number of states that have developed potentially life-saving "smart" traffic technologies, according to Reuters. Here are a few examples of the tech they've created:
Detroit is getting $2 million for sensors to create smart intersections by using existing traffic cameras to deploy artificial intelligence software solutions to "predict and prevent traffic accidents" in the city, Michigan's largest. [...]

New Jersey has won $2 million for sensors to address wrong-way driving events while New York is receiving $2 million for an app to allow visually impaired New York subway and bus customers to safely navigate their transit trips.

Los Angeles is receiving $2 million to integrate transit trip planning with event ticketing for major activities, including the 2028 Olympic and Paralympic Games

Cleveland, Ohio will get $1.8 million for smart traffic signals to provide the right of way to emergency vehicles, and Harris County, Texas is receiving $2 million for sensors for a new flood warning system.

Three tribal nations in North Dakota are receiving $2 million for drone technology for medical care and equipment deliveries, while a project to use drones to deliver medical supplies in Virginia's Eastern Shore will get $1.9 million.

Massachusetts is receiving $2 million to use drones and sensors to monitor and analyze railroad infrastructure threatened by ground water variability while New York will use $1.5 million for drones to inspect infrastructure along a major highway.
Some of these — particularly those that mention "smart intersections" or involve vehicles communicating with the grid, or other cars — depend on vehicle-to-everything (V2X) technology. It's the future that telecoms have been promising for at least five years, ever since they began making noise about how 5G's low latency and improved data speeds would foster the overnight manifestation of smart cities and cars that talk to each other.
In other words, many of these ideas aren't new, and even if they're technically possible, they require so much departmental cooperation that we'll be lucky if they ever come to pass. There are common sense solutions to our ongoing traffic calamities, but unfortunately they're just not sexy enough, and don't have Verizon's endorsement.
3rd Gear: Car Sales Continue to Grow in Europe
Call it now seven straight months of auto sales growth in Europe. From Bloomberg:
Registrations jumped 12% in February to 902,775 vehicles, the European Automobile Manufacturers' Association said Tuesday. Sales of battery-electric vehicles surged 34%, expanding more than any other type of powertrain.

Shortages of semiconductors and other components are becoming less of a problem, but automakers are still contending with logistics snags, slowing economies and inflation. Order books remain full for now but carmakers are growing more pessimistic about the outlook, a survey of German manufacturers showed earlier this month.

"Supply-chain constraints have abated, though tightening consumer budgets amid inflation and rising interest rates are a risk to pricing and the auto-sales recovery," Bloomberg Intelligence analysts Gillian Davis and Michael Dean wrote in a report Monday. They expect sales to expand at least 5% this year based on pent-up demand.
In the U.K. alone sales leaped 26 percent. And soaring energy prices have made economy cars quite popular, with Renault and its subsidiary Dacia recording 28.8 percent better sales in February 2023 compared to a year earlier. What a shame so many companies are giving up on making those.
4th Gear: Here's Another Reason Japan's Auto Industry Should Have Been Better Prepared for EVs
There's differing opinion on whether Toyota and Honda have been laggards or pragmatic in their half-hearted philosophy toward EVs. Regardless, they probably should have paid them a bit more attention if they ever wanted to move another car in China. If you thought only American and European makes were struggling there, the latest from Bloomberg demonstrates that car buyers in the country are beginning to look away from Japan's best sellers:
China is providing a window into a future where these Japanese titans — which did more to bring cars to the masses than any other automakers — fall from their pedestal, potentially upending the global auto-making landscape for good. Tesla is the world's top EV maker by vehicles sold, followed by companies including China's BYD and Volkswagen AG, according to Bloomberg Intelligence. No Japanese carmaker makes the top 20, leaving them on the sidelines of the auto industry's fastest-growing sector.

"If the Japanese automakers continue a conservative and indecisive approach to their EV strategies, it's only a matter of time before they fail in the global market," said Yale Zhang, managing director of Shanghai-based consultancy Automotive Foresight.

In China, Japanese cars are mostly produced and sold through joint ventures with local partners. Guangzhou Automobile Group Co. has partnerships with Toyota and Honda, while state-backed Dongfeng Motor Group Co. has ventures with Honda and Nissan.

The ventures have long excelled with good value, reliable gasoline vehicles in the mid-range category — cars priced between 100,000 yuan to 300,000 yuan ($14,000 to 43,000). Nissan's compact Sylphy sedan, the Toyota Corolla and Honda's Civic are known in China as the "three musketeers" of popular Japanese cars. Sylphy was the second-best selling model in China last year, with deliveries of 393,500 units. Corolla was No. 10 at 191,610.
Toyota's sales in China actually declined in 2022 for the first time in 10 years. Nissan and Honda have been on a downswing for some time as well. In fairness to Nissan, it happens to have a few EVs at its disposal between the Leaf and now Ariya. Toyota has the bZ3, though if it's as middling as the bZ4X, it's probably not going to cut it in the world's most competitive EV market.
5th Gear: Better Days for Tesla in China
Tesla's price cuts in China might've actually done the trick. The EV maker's sales swelled during the most recent quarter that began January 1 and just ended last week, according to Reuters:
Tesla is poised to report one of its best quarters in China, the latest retail sales data showed, after becoming the first electric vehicle maker in the country to cut prices in a bid to defend its market share.

The U.S. EV maker's retail sales in China totaled 106,915 units from Jan. 1 to March 19, or 1,371 units per day on average, according to data from China Merchants Bank International, which tracks car insurance registrations.

That was slightly higher than the 1,327 units it sold daily on average in the fourth quarter in China, when Tesla sold a total of 122,038 cars, its best quarter so far, the data showed. [...]

Bulwarked by its higher profits per car than other electric vehicle makers, the U.S. automaker slashed prices of its best-selling models by up to 13.5% in China in January, triggering a price war with BYD and several rivals following suit over the next two months.
Now, BYD still outsold Tesla five-to-one between the first two months of 2023, but then BYD kind of wipes the floor with everybody, so Tesla should be relatively content with the results here.
Reverse: Across Edmund Pettus Bridge
On this day in 1965 — 58 years ago — the march from Selma to Montgomery, Alabama led by Martin Luther King, Jr. began. From History.com:
In 1965, King and his Southern Christian Leadership Conference (SCLC) decided to make the small town of Selma the focus of their drive to win voting rights for African Americans in the South. Alabama's governor, George Wallace, was a vocal opponent of the African-American civil rights movement, and local authorities in Selma had consistently thwarted efforts by the Dallas County Voters League and the Student Nonviolent Coordinating Committee (SNCC) to register local Black citizens.

Although Governor Wallace promised to prevent it from going forward, on March 7 some 600 demonstrators, led by SCLC leader Hosea Williams and SNCC leader John Lewis, began the 54-mile march to the state capital. After crossing Edmund Pettus Bridge, they were met by Alabama state troopers and posse men who attacked them with nightsticks, tear gas and whips after they refused to turn back.

Several of the protesters were severely beaten, and others ran for their lives. The incident was captured on national television and outraged many Americans.

King, who was in Atlanta at the time, promised to return to Selma immediately and lead another attempt. On March 9, King led another marching attempt, but turned the marchers around when state troopers again blocked the road.

On March 21, U.S. Army troops and federalized Alabama National Guardsmen escorted the marchers across Edmund Pettus Bridge and down Highway 80. When the highway narrowed to two lanes, only 300 marchers were permitted, but thousands more rejoined the Alabama Freedom March as it came into Montgomery on March 25.
On the Radio: Silver Jews — "People"
In honor of the first day of spring, which was yesterday. Soon it'll be sunny and 75, and it'll feel so good to be alive.