Not gonna lie, Jalops. It's been a rough week for your friendly neighborhood weekend editor.
The Ford Taurus Is Reborn — But Only For the Middle East
Since Monday night I've been holed up alone in my house, sucking down Cocoa Puffs and tequila while watching reruns of Quantum Leap in my pajamas in a desperate attempt to make my heartbreak go away.
Why am I so depressed? Because Suzuki is exiting the American market. I'm not sure I want to live in a country where I don't have ready access to rides like the Kizashi and Grand Vitara.
G/O Media may get a commission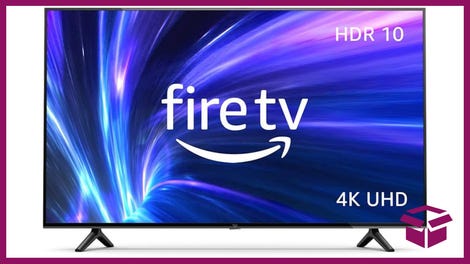 42% Off
Amazon Fire TV 50" 4K Smart TV
Knowing I still had a duty to you, my readers, I took to YouTube to find some classic Suzuki ads so that I could help spread the love of this storied, unforgettable brand. And guess what I found? Suzuki has some of the most ridiculous ads OF ALL TIME.
Where to start? There's the one where an "Off the Wall"-era Michael Jackson Japanders for the Love scooter; the one where a spokesman brags about how a Vitara SUV makes a great "other car"; and the one where the main selling point of the 1987 Intruder Motorcycle is that it helps you pick up random women and children in diners.
But my favorite had to be these Suzuki SX4 ads from India, where the brand dominates the market as Maruti Suzuki. And make no mistake — in India, the SX4 is a car for men. You want respect? You want dominance? You want women to give you the attention you deserve? Then you need to drive the power-monger that is the SX4. It's got 102 horsepower at 5,500 RPM and stereo buttons on the steering wheel. Think you can handle that shit?
If the answer's yes, then you can be like this guy: a road-owning badass. Yeah, that's right. After ME. Watch this and see what we're about to miss out on, America!