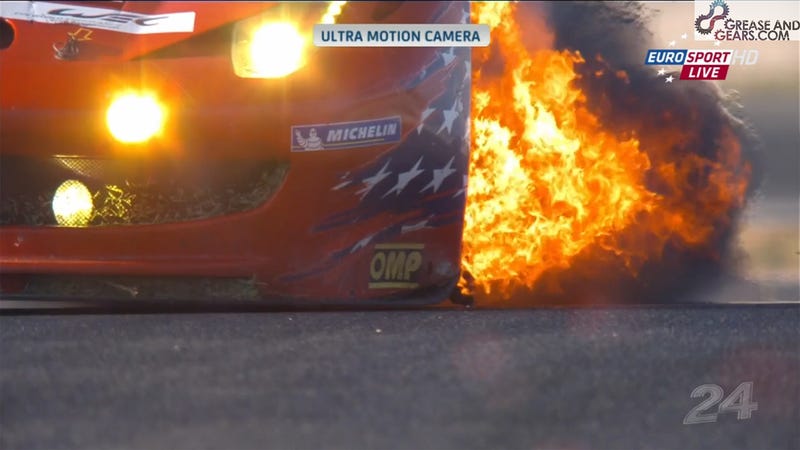 This was the first year that the 24 Hours of Le Mans had super slo mo, million-frames-per-second footage. In case you were wondering, it was awesome.
The video was put together by Grease and Gears and it's just a compilation of all the super slo mo shots from the race broadcast..
Aside from being a big step for Le Mans broadcasting (Formula One has had the necessary cameras for a while now), this footage was just entrancing. You can see how even these carbon fiber cars flex over the bumps, how rigid aero pieces flap in the wind like kites, how gravel fills up the cars every time they spin off track.
Particularly awesome is the broken suspension on one of the crashed Audis bounces the wheel hobbling back to the pits at around two minutes in. The same goes for Brian Vickers in the Waltrip Ferrari 458 spewing flames at around 3:30. The leaping off road excursion by an LMP2 car at 11 minutes in is also something I'll remember for a long time. The car is fully airborne, dust flying off like Dukes of Hazzard.
At just under sixteen minutes of footage, the clip isn't short. On the other hand, it takes a lot less time to watch this clip than the full 24 hours of race footage, so think of this as a time-saving exercise.
(Hat tip to Brad!)