Would you believe that a MINI won the Dakar rally this year? Perhaps a car brand that's as far from its roots in purposeful simplicity is a fitting metaphor for a rally named after a place in Africa that, for the first time this year, entered Peru.
Continuing that metaphor, who cares that a german MINI won when it's clearly a freakin' awesome race car running in a freakin' awesome race? These photos are grand in scale and epic in action.
It's no secret that we were rooting for American Robby Gordon in his oranger-than-orange Hummer race truck. But, after a second week frought with accidents and mechanical trouble, Gordon only managed a disappointing 5th place.
"I've always thought that second place is just the first among the losers," stated Gordon. "So I'm afraid we're fourth among the losers."
The Dakar covered 5,025 miles of actual racing this year, beginning in Buenos Aires, Argentina and finishing in Lima, Peru. Click through the photos to see the whole gallery (and click expand in the lower right corner to make them even larger).
G/O Media may get a commission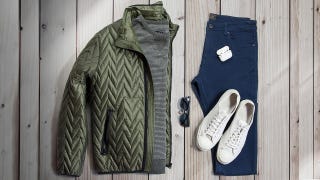 60% off
Jachs NY Fall Sale 60% Off
Photography Credit: Getty Images
Photography Credit: Getty Images

Photography Credit: Getty Images

Photography Credit: Getty Images

Photography Credit: Getty Images

Photography Credit: Getty Images

Photography Credit: Getty Images

Photography Credit: Getty Images

Photography Credit: Getty Images

Photography Credit: Getty Images

Photography Credit: Getty Images

Photography Credit: Getty Images

Photography Credit: Getty Images

Photography Credit: AP Images

Photography Credit: AP Images

Photography Credit: AP Images

Photography Credit: AP Images

Photography Credit: AP Images

Photography Credit: AP Images

Photography Credit: AP Images

Photography Credit: AP Images

Photography Credit: AP Images

Photography Credit: AP Images

Photography Credit: AP Images

Photography Credit: AP Images

Photography Credit: AP Images

Photography Credit: AP Images

Photography Credit: AP Images

Photography Credit: AP Images

Photography Credit: AP Images