If you've long been a fan of the wider rear ends of the all-wheel drive and GTS Porsche 911s, you're in luck when the all-new 992 generation drops next year. According to a report from Car and Driver, Porsche's going to keep things simple on the next 911 by making them all widebody.
But if you like your 911 to have a narrow, slim-looking rear-end, well... tough shit, I suppose.
Here's what we know about the dimensions of the next 911, which, like all new cars these days, is expected to get a little bigger than its predecessor:
The styling and chassis changes are closely related, as all 992s will have the wide rear bodywork that currently is used only on the all-wheel-drive and GTS models. This means that all versions will have the voluptuous 72.0-inch-wide hips in the back, and these will be coupled to a 1.6-inch-wider front track with matching wider front fenders.

The wheelbase is unchanged, but overall length grows by about an inch—all in the front overhang—due to a more rounded nose. The Carrera and Carrera S will share the 8.5- and 11.5-inch-wide (front/rear) wheels of the current 991.2 models; wheel diameters measure 19 inches in front and 20 in the rear on the base cars, while S models get 20s and 21s. This is the first time that 911s other than the scintillating RS models have used staggered front and rear wheel diameters.
G/O Media may get a commission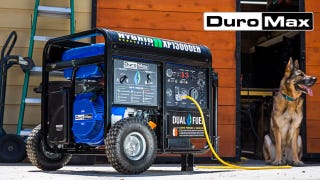 Black Friday Sale
DuroMax Generator Sale
I personally like the wider look of the GTS and Carrera 4 models—to say nothing of the even wider Turbo models—so I think it's a positive change. But I can see where some purists would be mad about their GTS-es and 4s looking less unique than before.
(Porsche purists, mad about something! Imagine that.)
In a separate report from C&D, we learn that we'll see the final production version of this car—minus the ones we've already seen with hilarious tape strips covering the Porsche logo—at the LA Auto Show at the end of November. The launch models available for sale in the U.S. next summer will be the Carrera S and 4S equipped with the eight-speed PDK gearbox; those will have 450 horsepower. A few months after that the Carrera, Carrera 4 S and others—including the manual transmission models—will also go on sale, with 385 HP. Good to know some German manufacturers are still trying with manuals, right?
The new 992 doesn't look too much different from its predecessor, but it is all new under the skin and is said to boast more efficient engines and better driving dynamics than before. A hybrid variant is expected this time around too, which should be especially interesting.
Expect more on this thing as we get closer to the LA show.