Texas Motor Speedway pulled the equivalent of bunny ears in the class photo on nearly every NASCAR driver who walked its stage this weekend, and it was like taking 40 trips to burntown each day: When the track a driver, a snarky joke about them would pop up on its giant television screen for fans to laugh at.
NASCAR pre-race ceremonies start with a round of driver introductions, where those running the race walk out on a stage and are cheered for (or booed) by the crowd. Introductions are usually generic from track to track, but Texas Motor Speedway likes to make things a show—and did, by owning almost every driver who walked out.
In the interest of full disclosure, I was on pit road during driver introductions. It's impossible to hear what's going on at the stage on the front stretch from there, so I didn't know that driver introductions were such a show until I got home and my fiancé read a Reddit thread about all of the burns Texas Motor Speedway handed out during them. But, thankfully, they weren't any less hilarious after the fact.
I reached out to the track, because I had to see this for myself. Here are the introductions from Sunday's Monster Energy NASCAR Cup Series race courtesy of Texas Motor Speedway, if you want to watch the fun for yourself:
But it wasn't just Sunday when Texas Motor Speedway burned everybody. The track did this for all three races over the weekend, and here are some of our favorites, sent verbatim from the track and explained by yours truly if you're unsure of the context:

G/O Media may get a commission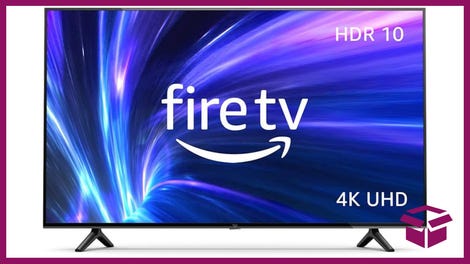 42% Off
Amazon Fire TV 50" 4K Smart TV
---
The Monster Energy NASCAR Cup Series
---
Denny Hamlin, No. 11: Making start 10,001 today.

Denny Hamlin used some of his math skills in a Twitter statement after he spun the leader (and probably the new fan favorite) Chase Elliott at Martinsville Speedway. He said he's "raced nearly 10,000 races" since he was 7-years-old, which would average out to 345 races a year. Hm...
The Twitter apology didn't help too much, because the crowd at Texas Motor Speedway thundered with boos for Hamlin on Sunday. (That was the one thing I could hear from pit road.)
Ricky Stenhouse Jr., No. 17: #17 on the track but #1 in Danica's heart.
It's always good to be No. 1 somewhere. (Ricky Stenhouse Jr. and Danica Patrick date each other.)
Kyle Busch, No. 18: Excited someone else will be boo'd more than him today.
They're talking about Hamlin.
Daniel Suarez, No. 19: A better spokesperson than Jared. Yeah, we said it.
Subway dropped Daniel Suarez's sponsorship after he played along with an NBC television segment and helped pass out donuts. Subway referred to the dropped sponsorship as due to "circumstances beyond [its] control."

In other words, breaking the #brand rules is more punishable than breaking, uh, general rules for governing your own personal life!
Joey Logano, No. 22: Can't grow a beard.
Corey LaJoie, No. 23: Sorry for making jokes about you wrecking.
Jokes about Corey LaJoie wrecking come almost as easily as jokes about Honda Formula One engines going ka-boom.
Aric Almirola, No. 43: Bro, so are you going to the 10 next year or what?
Update, as of the following week: He is. We all knew that already.
AJ Allmendinger, No. 47: Has a cat named Mr. Tickles. We're not joking.
Here is Mr. Tickles' Twitter account. Please enjoy.
Ray Black, No. 51: 51 on the track, probably 51st in points too.
Only 40 drivers make the Cup Series field every week, so 51st would be very bad. Ouch. This poor dude is just trying to race some cars.
Martin Truex Jr, No. 78: Probably going to win a Stage at some point today.
This somehow did not happen, but was a good bet.
Gray Gaulding, No. 83: Europeans think his name is spelled incorrectly.
Maybe Americans shouldn't be so quick to use colours as names.
Michael McDowell, No. 95: Yes, he is that guy that had the crazy wreck here.
---
The NASCAR Xfinity Series
---
Blake Koch, No. 11: Please don't boo just because he's number 11.

He's No. 11 like Hamlin, get it?
Carl Long, No. 13: Happy to now be the most popular Carl in NASCAR.
Carl Edwards, the guy who did backflips, retired at the start of the year.
Ryan Reed, No. 16: Thinks zebras are black with white stripes.
They're just setting this guy up to be unpopular for life.
Christopher Bell, No. 18: He WAS clear, Erik. Just sayin'.
Christopher Bell cut in front of teammate Erik Jones in an all-important Xfinity Series race a couple of weeks ago and took the win away from him. They didn't seem super happy with each other afterward.
Erik Jones, No. 20: President of the Christopher Bell Fan Club.
Timmy Hill, No. 40: Tired of King of The Hill jokes.
Thankfully I have avoided that with the last name of "King."
Joey Gase, No. 52: Never won a race on Mario Kart.
Maybe the competition was tough.
Josh Williams, No. 92: Shows up on the third page of a Google search.
The burns are bigger in Texas, aren't they?
---
The NASCAR Camping World Truck Series
---
Ray Ciccarelli, No. 0: Over/Under on laps run is 9.

They're making a joke about start-and-park drivers.
Cody Coughlin, No. 13: Still plays Pokemon Go.

Just don't do it while driving.
Gray Gaulding, No. 15: Has a twin brother named Grey.
This is a continuation of the other joke.
Austin Cindric, No. 19: A fan of the spin and win.
Well, it's a good thing he's a fan, because he probably didn't make any the day he shoved another driver out of the way to win.
Wendell Chavous, No. 49: Still "Pokes" people on Facebook.
Now that's just mean.