While everyone else is talking about the cars, exotic places and jokes on The Grand Tour, I'd like to take this opportunity to express my undying admiration for the things James May wears on set.
If you weren't aware, last night's/today's episode was/is The Grand Tour season finale. The trio headed to Dubai and marveled at the wealth of their backdrop. They compared some old technology to new technology. They went fast. They drifted some stuff. All in all, it was quite a pleasant episode.
Like many of you, I was an avid Top Gear watcher before The Grand Tour was even an idea in anyone's mind. And I never failed to notice the wonderful clothes James May chose to wear in the studio portions of the show. (And let's not forget the purple stripey jumper.)
We will have a full season recap for you soon, evaluating the good and the bad, but for now let us focus on the very good: James May's dope-ass clothes.
G/O Media may get a commission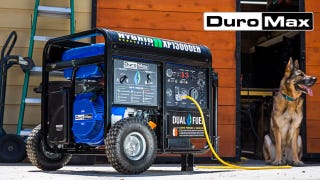 Black Friday Sale
DuroMax Generator Sale
Sometimes they were questionable picks, but they were always shirts and jackets of varying colors, patterns and materials. But as the years have gone on, it's become apparent: all of these clothes do seem to belong to James May, since they appear multiple times in various episodes.
This is actually very nice because it gives The Grand Tour a humble feel. Most TV shows, especially American ones, have teams of hair, makeup and wardrobe people to keep the hosts and stars in the freshest fashions. James May and Co. seem to stick largely to their own personal wardrobes, which furthers the show's personable charm that drew people in in the first place.
Let's dive in.
Episode 1: The Holy Trinity
I have always been a fan of blending lights and darks, but mostly blacks with whites. At first, I thought this was just an aquamarine shirt, but upon closer inspection, it actually has a dark blue flower pattern. It's a lovely shirt, but not the zaniest thing I've seen him wear.
Episode 2: Operation Desert Stumble
This appears to be the same jacket, though it looks darker. That could be the lighting, though. But man, is that shirt lively! Here, May has kept the aquamarine color, but this shirt has a smattering of whites and dark blues, which is extremely attractive. This makes the shirt pop way better than the first one.
It could also be the makeup he's wearing, but May seems like he has a little bit of a suntan, which looks better contrasted against the blues of the shirt.
Episode 3: Opera, Art and Donuts
While at first, this looks like a velour jacket, it is, in fact, black corduroy. Wow! I think I stopped wearing corduroy myself in 1997. But here it is again. Perhaps for him, it never really went away.
Under the studio lights, the fabric takes on almost a sheen, which adds depth. May chose a dark-backed shirt under this, flowered as well. Definitely not as bright as the other shirts and I think this is because he didn't want to draw attention away from the jacket. Which, why would you?
Episode 4: Enviro-mental
Gray jacket again! Although this looks like a different one from the first two episodes—it's lighter.
I would like to remark on the yellow-gray combination May has going on in this episode. I find this to be a very chic color combination and you can see this combo echoed in many department store windows. But it's not sunshine yellow, it's kind of a yellow-green, which actually pairs very nicely with the blue-gray aspects of the shirt.
Episode 5: Moroccan Roll
Hmm. I see what he's trying to do here. The brown shade of the jacket can be found in the shirt, but I find the brown distasteful and therefore this combo is a flop.
There are nice browns that are on leathers and pants. Usually, those browns are darker. Then you have tans. This is kind of an in-between and it really only succeeds in reminding me of biological matter. Sorry.
Episode 6: Happy Finnish Christmas
HOLY SHIT LOOK AT THIS BUSINESS.
That is a dark blue velour jacket. I wish was bold enough to pull this off. I feel like the only people could make this work are royalty and James May. I don't even know what wearing a velour jacket would even feel like. Is it warm and insulating? Or is it light and airy? Does it hold smells well?
And once you move away from that, it's a tropical shirt. Tropical! I like the shirt by itself, but in this case I think the green has a little too much blue in it, making it dangerously close to clashing with the jacket. If it were me, I'd keep the jacket and go with a crisp, white collared shirt. But as we already know, I'm not as bold as May is.
Episode 7: The Beach (Buggy) Boys - Part 1
I this shirt is... covered in amoebas? Because that's what the print looks like to me. I'm liking that he rolls his sleeves up, though, and keeps them below the elbow.
Episode 8: The Beach (Buggy) Boys - Part 2
No tent.
Episode 9: Berks To The Future
Same as in episode one.
Episode 10: Dumb Fight at the O.K. Coral
The corduroy jacket is back! But this time over a very attractive, spring-time green flowered shirt, colorful with daisies and bluebells? Sure, they look like bluebells.
As much as I love the contrast black creates, I think I like the first shirt he wore more—the one that was black and had colored designs. This shirt could almost nearly be considered to have a pastel palette, and pastels generally look very strange next to black.
Episode 11: Italian Lessons
Though not as brightly colored as his usual ensemble, episode 11's jacket and shirt combination was quite lovely. Using warm tones like dark pink, the shirt has a great blend of teals, maroons, whites and purples. I think this might actually be one of my favorite shirts that he's worn.
And the jacket! There's just a touch of the same warm tones in the fabric that it works nicely with the shirt underneath. I suspect that the jacket is actually one of those colors that work well with warm and cool colors since it has a bunch of different colored threads woven in. The stitching detail on the lapels and the pocket add a little flair.
Episode 12: [censored] to [censored]
I need you to see the entire outfit because I need you to understand how goddamn amazing it is. May's got a good situation going on with the skinny jeans—they fall over his shoes with just a minimal amount of bagging which achieves a very casual look.
But the jacket!! You can tell he was not drawing attention away from the jacket by opting for a plain, white collared shirt underneath. This jacket is the statement piece, instead of the other way around, which is May's usual style. It looks like it was patched together with different colors of the sky. It is glorious.
I know for a fact that I'm not brave enough to wear this jacket and I don't have anything that could match it, but damn would I love to try.
This actually isn't the first time May has worn it either. We've seen it before on Top Gear season 22—just before the trio left to work with Amazon.
Episode 13: Past v Future
No jacket this time, but a gorgeous midnight blue and black patterned shirt. Match this with white linen and you'd look like a million bucks.