This is The Morning Shift, our one-stop daily roundup of all the auto news that's actually important — all in one place at 9:00 AM. Or, you could spend all day waiting for other sites to parse it out to you one story at a time. Isn't your time more important?
Last week we did things a little differently by putting the gears inside the comments below to make it easier for you to comment on individual gears. I think there were some benefits to it, but let's try it out the other way.
I still encourage you to make your own gears in the comments that we can heart-click to the top.
1st Gear: You Knew It Would Be The Macca

G/O Media may get a commission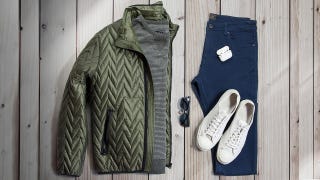 60% off
Jachs NY Fall Sale 60% Off
We're going to be talking about the McLaren P1 all day because we're still pondering what it means to have a lightweight, V8-powered hypercar with 727 horsepower mated to a KERS system that adds 176 horsepower… all while returning roughly 28 MPG (on the Euro cycle). Is this eating your cake and having it to?
What's still outstanding? By the time we leave the Geneva Motor Show next month we hope to know the actual weight, acceleration numbers, top speed, and maybe an idea of how fast it goes around certain twisty strips of roads.
Photo Credit: GF Williams
2nd Gear: The Bentley Flying Spur Is Official

You all saw the 2014 Bentley Flying Spur yesterday, but there's a full press release out and it says almost what we thought. The 6.0-liter twin-turbo W12 now hits 616 horsepower and 590 lb-ft of torque, giving it the most power of any four-dour Bentley ever. This means the new saloon can hit 60 mph in a ridiculous 4.3 seconds. Can you imagine sitting in your Mustang and getting dusted by a guy putting Grey Poupon on his pheasant? You'll also never catch up with him as he reaches the 200 mph top cruising speed.
No mention yet of a V8 option, although that's still a possibility for the future.
3rd Gear: Watch The Detroit News Try To Write About The Twitter Hack

You may have missed it yesterday, but the Jeep twitter account was hacked. A few minutes before that, the company behind the account put up an article about how to avoid the hack. And a few minutes later our pals at Gizmodo identified the hacker as a DJ from Rhode Island.
You'll learn almost none of that from The Detroit News. Reading Bryce Hoffman's take on the hack will make you grimace if you know anything about how the Internet works. First of all, they let Chrysler get away with saying they don't know who did it. I doubt this is true because we told Chrysler who did it, although maybe it didn't make it up the chain to spokesman Ed Garsten.
What really gets us is this bit:
A Twitter feed associated with the hackers' collective Anonymous appeared to take responsibility for the attack; there was no way of verifying that because the group has no leader or spokesperson.
Yeah, actually what happened was the opposite. Even a little Google searching would have turned up that we have a good idea who hacked Chrysler (see the DJ above) and the Anonymous Twitter account was not claiming responsibility, but implementing their #blameanonymous hashtag, which they use because anytime there's a hack some reporter immediately blames Anonymous. A quick look at their Twitter feed would also show you this
#blameanonymous!
4th Gear: He'll Never Live In A Van Down By The River

Ford's Jim Farley is an incredibly affable person, and not just for an auto exec. He's funny, charming, and a great storyteller. Sure, he's got a blindspot for Lincoln, but maybe he can hold the ship together long enough for them to produce a car we'll actually get excited about it. So how much is being likable worth? According to The Detroit News's Karl Henkel (and the SEC), a lot.
Farley, 50, Ford's group vice president of marketing, sales, service and Lincoln, agreed to come to the Glass House in November 2007 for a $700,000-a-year base salary, a $1.5 million signing bonus and $4.2 million in compensation he would have received had he stayed with his former employer.
Not bad.
5th Gear: Hopefully, Your Local Fiat Dealer Is A Top Dealer

Per Automotive News, if you want an Alfa Romeo 4C (and of corse you do), you best hope your local Fiat dealership is a "top" dealer. Chrysler is using the carrot of the Alfa brand to reward dealerships who have produced strong sales and positive customer service with the first Alfa franchises. Of course, they'd also like to give the cars to dealerships who have attached service department, which is tough given that a lot of Fiat dealerships have sprouted up in malls and storefronts. They'll be flexible at first, but eventually those mall stores will need to offer service.
Based on what we've heard about Fiat sales, we wouldn't be surprised to see an Alfa dealership in Austin, Texas.