Good morning! Welcome to The Morning Shift, your roundup of the auto news you so desperately crave, all in one place every weekday morning. Here are the important stories you need to know, or at least need to be able to text to your friends before they text them to you. You're gonna be first today, I can feel it.
1st Gear: If You Start From The Bottom, You Can Only Go Up, Right?
My favorite story of the day is this hilarious one from Bloomberg "Alfa Romeo Bets Big on America and Wins."
Whether or not the error-prone Alfas were genuinely successful or not, very technically the company posted huge year-over-year gains on sales, which increased "23-fold," as Bloomberg reports. Of course, Alfa only sold about one sixth as many Giulia sedans as BMW sold 3 Series, but very technically this is a win. Technically.
2nd Gear: China Considers Making Half Of Its Cars AI Capable By 2020
China's National Development and Reform Commission might not sound particularly important to American ears, but consider its older title: State Planning Commission. The NDRC is the top state planner in China, as Reuters notes, and it's mulling a plan to put smarter cars way ahead of the rest of the world. As Xinhua reports:
China plans to push the development of smart cars and aims to make smart car production account for half of the country's total new vehicles by 2020.
The country aims to develop core homegrown technologies, gain global reputation for quality smart cars and become a global leader in smart cars by 2035, according to a draft plan released Friday by the National Development and Reform Commission (NDRC).

Smart cars are vehicles installed with new technologies such as big data, cloud computing and artificial intelligence, according to the plan.

The country will cover 90 percent of its big cities and highways with a wireless network that can support smart cars by 2020 and ensure product supervision and information security.

G/O Media may get a commission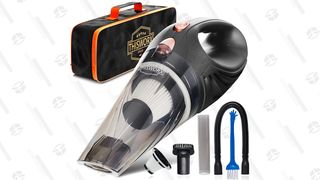 Save 50%
ThisWorx Car Vacuum Cleaner
The plan is not yet set in stone, and the NDRC is taking public comment for the next few weeks. Until then, everybody else better get their asses in gear.
3rd Gear: Car Companies Are Going To Be The Ones Making The Autonomous Cars Of The Future
Remember when we were all hyped about tech companies like Google and Apple making cars? Remember how all those tech companies toned way, way, way down their expectations about making their own cars and started moving towards partnerships with legacy automakers? Yeah, that's still happening.
News today is that Toyota will be bringing a new generation autonomous prototype to the upcoming CES, but more interestingly that Renault/Nissan/Mitsubishi is actively looking for a tech company to partner with to make autonomous taxis, as Automotive News reports from a quote by Ogi Redzic, a senior vice president at Renault/Nissan/Mitsubishi:
"Tech companies aren't going to build and sell cars to our current customers," said Redzic, a former Nokia executive. For them, autonomous technology enables and enhances their main businesses, he said. "We envision that partnerships are possible."

Renault, its longtime partner Nissan, and more recent affiliate Mitsubishi plan to develop 15 models with autonomous features by 2022, including one fully self-driving vehicle.

Combined, the companies spent a total of $8.3 billion on r&d last year — on par with General Motors.

The takeaway from this is that, yes, bumbling as they may often be, carmakers sure look like the ones that will be building the cars of the future.
4th Gear: Travis Kalanick Sells Some Uber Stake For The First Time
Sort of following on that same trend, former Uber CEO Travis Kalanick finally sold some shares of the company he used to boast he'd never sold shares of, as Bloomberg reports.
The move should make him over a billion, as the Financial Times reports. While you're at the FT, I encourage you to read this hilarious article on how you can hedge your finances against a future lefty Corbyn government.
5th Gear: Looks Like Diesel Is Dropping Out In Europe
Diesel slumped 17 percent in the UK this past year, as Automotive News Europe reports and Toyota straight up stopped selling diesels in Italy altogether. How long it takes before that expands across the rest of Europe is an open question, per AN Europe:
A Toyota Europe spokesman said the market situation will dictate whether the automaker will offer diesel-free car lineups in other European countries. "The core of our strategy is hybrid. The more we move forward, the less the need for diesels," the spokesman said.

I think it's only a matter of time before the continent that gave the world diesel gives up on it.
Reverse: You'd Think They'd Be Done Painting It By Now
Neutral: Who Will Win In AI?
Maybe I've been reading too much business news lately and think anyone can "win" anything, but I do wonder if you think China will actually come into the lead in autonomous vehicles, or if it will come from the depths of Silicon Valley or Detroit?