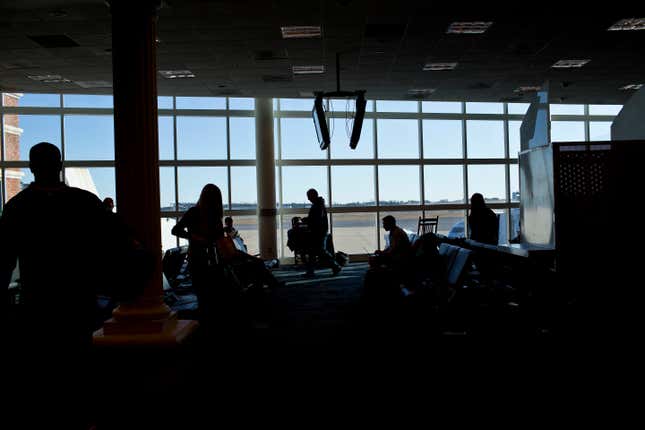 Both the National Transportation Safety Board and the Federal Aviation Administration are investigating the jet-engine death of a ground crew worker at Alabama's Montgomery Regional Airport over the weekend.
The airport announced via Twitter the ground crew worker died around 3 p.m. Saturday, AL.com reports. Officials in Alabama temporarily halted flights after the Piedmont Airlines worker was "ingested into an engine," at the gate of an American Airlines aircraft. From Today:
The ground crew worker, who has not been identified, was near a plane that had recently landed at the airport from Dallas-Fort Worth International Airport, the National Transportation Safety Board told TODAY in a statement on Jan. 2.

The aircraft was parked at the gate with its parking brake on "when a ground support personnel was ingested into the engine," the statement said. "The NTSB has opened an investigation into the accident."

The agency also said that local authorities would release the name of the worker. A preliminary report was expected in a few weeks.

Operations at the airport resumed at 8:30 p.m.
Piedmont Airlines is operated by American Airlines, which also released a statement following the death. The plane was an American Airlines Embraer E175 operated by Envoy Airlines, a regional airline also wholly owned by American Airlines.
The victim's name and further details of the death were not released, though CNN reports the ground crew member was standing on the ramp, or tarmac, when the incident occurred. Ramp workers are the industry term for baggage handlers. These are the folk you see outside the plane loading luggage into aircraft.
The airline news website One Mile At A Time reports that jet engines are normally shut off when ramp workers are busy:
Generally engines wouldn't be running during this time, so the big question is what could cause this incident. Was the auxiliary power unit (APU) not working, and the ramper got close to one of the engines while it was still running at something more than idle thrust?
"We are focused on ensuring that all involved have the support they need during this difficult time," American said.