The U.S. Air Force has used your tax dollars to commission two highly-customized Planelopnik-infused muscle cars complete with radar-absorbing paint, proximity sensors and targeting cameras for its recruitment program. When do we get a turn at the stick?
G/O Media may get a commission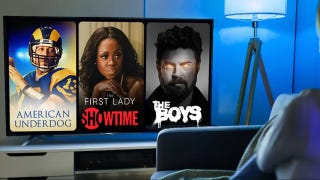 UNDER $1
99¢ Prime Video Channels
In a move to help raise the U.S. Air Force recruitment program off the floor, this Ford Mustang and Dodge Challenger have been given a heavy-handed once-over by California's Galpin Auto Sports — that's the same shop responsible for MTV's Pimp My Ride as well as building NBC's failed Knight Rider Kitt Mustang.

Galpin Auto Sports was asked to create a couple of military aircraft-inspired customs and as far as we can tell, delivered on that promise. The Mustang 'X-1' exterior features a custom bodykit, carbon-fiber throughout, scissor-doors and custom wheels, but the real magic is when you sit inside. The X-1 has forgone its Mustang interior, replaced with an ejection seat and an advanced jet fighter-inspired instrument panel with a joystick as the control interface.


The Challenger 'Vapor' features a Mad Max-style exterior with a shaker hood, radar-absorbing paint, one-off custom carbon fiber wheels, proximity sensors and a 360-degree targeting camera with a quarter mile range. The interior features two seats, unlike the 'X-1' with a secondary steering wheel for the passenger, aircraft-inspired console throttle control and a grouping of high-res screens to see the import-driving insurgents sneaking up from behind. In a strange mix, the trunk features both nitrous oxide tanks and stinger missiles for when you've live your life a dogfight at a time.
The U.S. Air Force 2009 Supercar Tour can be seen at various high schools throughout the country as well as other Air Force sponsored national custom car events. [via USAF]