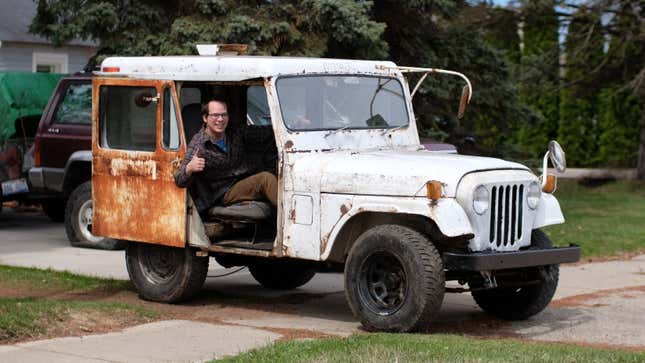 I haven't showered in five days, and I've barely slept. Trying to prepare my dilapidated $500 Postal Jeep—dubbed Project POStal—for an 1,800 trip to Utah brought me so close to the brink that on Thursday, I actually gave up. The Jeep was too far gone, I decided. But a last-minute burst of energy changed everything, and now I'm going to go for it. This afternoon, the journey begins.

Mitchell Slaggert's Rainbow-Colored Jeep Wrangler
I don't have time right now to tell you the full story of what happened here in Troy, Michigan over the past few days, but when I find myself stranded on the side of the road in rural America as I attempt to cross this fine country by way of a thoroughly-abused $500 Jeep DJ-5D Dispatcher, I'll describe it in detail. It was an amazing feat of wrenching, mostly because only a handful of people wrenched late into the nights to move mountains.
I don't know if those tectonic shifts will be enough, though, but what I do know is that the amount of progress my friends and I made, and the clever ways that we made it—recycling old parts to fabricate custom new ones, and developing ingenious methods of solving tough problems—has me feeling at ease with possibility of a breakdown somewhere along this trek.
The fact that I'm able to even begin this journey after all the curveballs the Jeep threw at me—and after a new, last-minute requirement by Jalop boss Patrick George to have the vehicle inspected by a certified mechanic—is a blessing. (Let the record state that I'm totally fine with this requirement, it's just that the Jeep isn't exactly pretty, and that had me worried. Also, my timing was tight.).
Yesterday was an especially hard day, because though the mechanic said the vehicle was mechanically sound, he did mention that the body was rusty. This is obvious, of course, and he'd have said the same thing about the previous three vehicles I drove to Moab.
Project POStal Getting a New Rear Floor
Nonetheless, his words—and the fact that I was hearing a bit of banging from the rear of the Jeep—led me to drive the Jeep around the block a bit and pay special attention to the body mounts. Eventually, I decided it was time to install an entirely new rear floor, along with a new structural crossmember that I could use as a spacer between the body and the frame (with rubber pads between them to act as body mounts). That's my brother Michael above prepping the rear tub so I can weld in the new floor.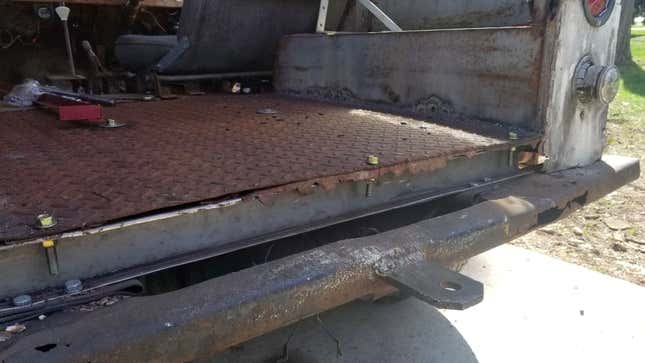 The final product is actually quite close to the factory rear structure of the car. I'll describe that sub-project in detail in a future post, and I'll also talk about how the steering nearly put an end to this trip until some good fortune from the Jeep gods—and some help from a few friends—turned the Jeep into a rock-solid machine. For now.

You can follow the journey on Jalopnik's or my own Instagram, and of course, right here on Jalopnik. I'll be leaving Troy, Michigan today around 2 P.M. My brother will be tailing me in a rental car going 40 MPH across the country. That speed feels like 100 MPH in the postal Jeep, but in a modern car, it will feel like a snail's pace.
I'm not sure who will be more miserable.