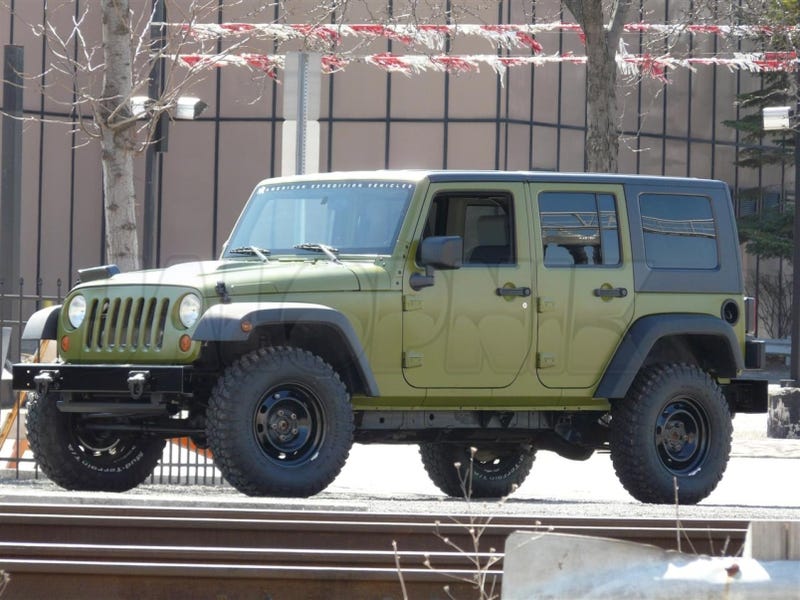 Out and about in downtown Royal Oak, Michigan, we spotted these M-plated and AEV-tagged Jeep Wranglers wearing complete military-style gear. What are these guys cooking up?
Just as we were putting our camera away after shooting the green Wrangler Unlimited, the tan extended-wheelbase Scambler-like truck version Wrangler pulls up so back at it we went. These seem to be outfitted with the same specification as the non-civilian Wrangler J8 unveiled in Germany last year for foreign military duty. They get the heavy duty BFGoodrich Mud Terrain T/A's a beefy front and rear bumper with high grade shackles and a military-style pintle hitch and a "J8" badge on the side. We can't say if they get the same diesel engines the military J8's get, but we did get a hood-up shot, so if there are any hardcore Jeepers out there so skilled, see if you can identify what's powering these babies.

We've got a call in with the big boss over at AEV, Michael Chetcuti. Stay tuned for more.
UPDATE: We were just looking at the pics a bit closer and noticed these even have the rear leaf springs from the J8 versus the coils the regular Wrangler has!