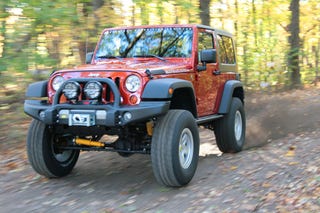 Jalopnik Reviews
All of our test drives in one convenient place.
The new Jeep Wrangler is a damn fine off-road vehicle straight from the factory, but a 202 HP V6 just doesn't quite fit the bill for the folks at American Expedition Vehicles. Remember, this is the same group of guys who built the Hemi-powered SR-392 Roadster and the amazing Brute conversion kit that'll let you turn your Wrangler into an honest-to-goodness Jeep truck. This year at SEMA AEV'll be showing their latest and greatest new toy — the custom shop's dropped a 5.7-liter HEMI V8 into the evergreen off-roader...and then tosses us the keys for an exclusive first drive. That's right, they let us loose in this monster of an off-roader — outfitted with their complete HEMI conversion kit, a Flowmaster exhaust, an Nth Degree three-inch suspension lift, 35-inch BFG Mud Terrain KM2s on a set of their own wheels, 4.88 rear gears, their all-steel heat-extractor hood and a beefy front winch bumper of their own design. The result: A seriously badass Wrangler.
Before we even talk about how the thing drives, it's worth noting the almost ridiculous level of build quality on this conversion. If you didn't know better, you'd think the HEMI was original equipment; in fact, thanks to AEV's connections to Chrysler, it's built using a lot of the same suppliers Chrysler uses. The wiring harness comes pre-tested and everything plugs up to the point that if you patch in a technician's scanner, it'll read as a Wrangler with a HEMI. It's literally as good as if it came from the factory. But what the HEMI Wrangler is all about is performance, and let's get one thing out of the way right off the bat: The price of admission for the AEV conversion kit is worth the exhaust note alone. Firing up that big V8 fills the little cabin with intoxicating levels of awesomeness. Out on the asphalt, the big bad JT actually rides really well for what is in essence a purpose-built rock crawler. That's not to say anyone will mistake it for a sports car, but it certainly will get you where you're going quickly. Since this is Michigan and not Moab, the most off-roading we could do in our short test drive involved some back-country dirt roads — the kind that would swallow a passenger car into its ruts and holes, but only rough enough to test the assembly quality of a rock hopper and not much more. Up against this measly test, the Wrangler didn't even flinch, providing an almost disturbingly smooth ride. Even with the huge tires, the excellent turning radius found on a stock Wrangler is unaffected. Ride and drive, exhaust note, nice leather seats — that stuff is all well and good, but you know what's really fun? Four-wheel dirt burnouts. Not that we did any of those, or dirt road brake stands. We'd never do stuff like that. But if we did, we would probably report AEV's HEMI V8 conversion turns a stock Wrangler Rubicon, which is pretty good on it's own, into a fire-breathing, mud-spitting, swaggering, snorting, off-road superstar.