Before Lamborghini made cars with angles sharper than Wendy's twitter responses, the Italian automaker made cars that were unquestionably timeless works of art. With examples of Lambo's vintage roots becoming harder to come by, cars like the ones for sale by comedian Adam Carolla should light fires under the asses of any gearhead with a big enough bank account.
While Carolla's car collection isn't talked about as widely as the collection of someone like Jay Leno, it is quite marvelous in its own right. Recently, Carolla purchased Paul Newman's Porsche 935 for $4.4 million, which put the broadcaster in the red by an order of magnitude more than I'd ever be comfortable with.
This prompted a fire sale of the broadcaster's five vintage Lamborghinis, of which three still remain, two being sold at the upcoming RM Sotheby's auction at Amelia Island next week.
---
The earliest example in the upcoming auction is a black 1965 Lamborghini 350GT, a 37,177 mile example that served as the first car Lamborghini ever made. This particular car is one of 120 ever made, so it's safe to say you won't see one of these driving around your local Cars and Coffee any time soon.

G/O Media may get a commission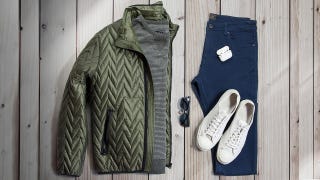 60% off
Jachs NY Fall Sale 60% Off
Its 3.5-liter V12 was the genesis for the platform that would be featured in every Lamborghini up to and including the Murcielago, in various iterations and displacements.
The 350GT has four wheel disc brakes, an aluminum body, and a row-your-own ZF manual transmission with five forward gears. Couple that with a handcrafted Italian leather-lined interior, and one can certainly make the argument that they got it right the first time.
---
The second car featured in the Amelia Island auction is a 52,962 mile 1969 Lamborghini Islero, which sported a larger, 4.0-liter version of the V12 first used in the 350GT.
It put out a quite formidable 350 horsepower through a ZF five speed manual transmission, and it's one of only 225 examples ever made.

It has a quintessentially '70s look about it, with smooth lines and understated and subtle curves. If the market is to be taken at face value, it's likely worth about half what the 350GT is worth, and that makes it one hell of a value, even if we are talking about the better part of half a million dollars.
---
The last car won't be featured in the RM Sotheby's auction, but it is available for anyone with the intestinal fortitude to write a seven figure check for something that requires scheduled oil changes.
It's a 41,232 mile 1970 Lamborghini Miura P400S, made to resemble the rare-as-pigeon-molars SV variant. It has an all-aluminum 3.9-liter V12 that produces 370 horsepower and features a look that may as well be pornographic.
It was the car that started the supercar platform as we know it, and examples like this get locked away in collections and dusted with a cloth diaper three times a day.

The asking price of the P400S is $1.4 million, so if you've been a successful anything in life and want to cash out your 401k, you'll likely have enough sweat equity in your marriage to narrowly avoid a divorce. Inquiries for this car should go to Matt D'Andria via email.
---
I'll be covering the upcoming Amelia Island auctions and Concours d'Elegance, so I may yet have a chance of seeing these awesome Italian masterpieces up close.
For those of you that can't make the trek, here's a video I made of some of these cars in Carolla's garage/race shop, with a startling lack of preparation and production quality.