Tony Stark's next car is under this sheet. A new Acura NSX Concept with a hybrid V6 motor waiting for its Detroit Auto Show debut. Here's everything that Acura's S.H.I.E.L.D. bodyguards would let us see.
Remember those tortured comments you made, in forums and on Jalopnik, begging Honda to bring back the Acura NSX — the one great holy and pure RWD Japanese sports car? Be careful what you wish for.
This is definitely the Acura NSX and it's definitely powered by a hybrid V6 motor with a pair of electric motors. Not offended enough? There's also a next-gen SH-AWD system powering the car's four wheels. Manual transmission? Nope. Seven-speed dual-clutch automatic.
G/O Media may get a commission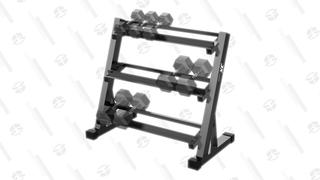 20% Off
JX Fitness Dumbbell Rack
Gains but tidy
Has a three-tier design to help store more weights more conveniently, can safely support up to 1000lbs of weight, which should be enough for most people, has a triangle base for stability, and also features anti-scratch feet which is great if you've built your own studio or workout in your garage.
The one great hope we have for this car is that it looks good. Given how bland or offensive recent offerings from Acura/Honda have been that's almost enough. Go ahead, take a peek under the sheet.
Photo Credit: Nikoletta Kanakis, Brian Williams