I tend to think one of the biggest and most persistent problems with modern cars is that they, for the most part, take themselves way too seriously. Almost every car now has to look imposing or tough or fast or suggest that the owner is rolling in cash, even if none of these things are true. This doesn't have to be that way, and the Mitsubishi Pajero Junior Flying Pug is one of the best examples of what could be if cars stop taking themselves so damn seriously.
The Flying Pug—perhaps one of the finest names in all of motoring—was based on Mitsubishi's successful Japan-market only tiny off-roader, the Pajero Junior. The Pajero Junior was actually the larger variant of the Pajero Mini (if you can keep all your diminutives straight) which was a kei-class vehicle.
The Pajero Junior had a bigger, non kei-restricted engine, a colossal 1094cc, making a elephantine 80 horsepower or so, and had wider wheels and fender flares to keep those tires sheltered and cozy. These were actually known to be fairly capable off-roaders despite their minimal size, with decent ground clearance. Here's a video of some of them in action:
The styling was typical mid-'90s Mitsubishi, and fit in well with their full-size SUVs. Japan, though, isn't a place that likes to let things get boring, and in the '90s Japan was having a sort of retro-look craze, with cars like Nissan's Pike cars (Figaro, Pao, Be-1, S-Cargo) and companies like Mitsuoka and Daihatsu getting into the act.
G/O Media may get a commission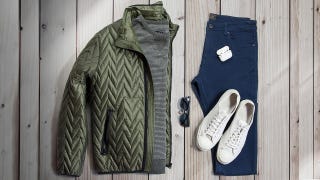 60% off
Jachs NY Fall Sale 60% Off
Old British cars were especially popular sources of retro inspiration, and an old London Cab seems to be what inspired Mitsubishi with the 1997 Flying Pug.
The Flying Pug keeps the short, tall, big-booted look of the Pajero Junior, but grafts on the tall stately grille and big round lamps of an old Austin FX4. The wheel flares become big, rounded fenders, the taillamps are replaced with multiple round units, and chrom bumperlets are popped on.
Especially in black or a two-tone maroon-and-black, with alloy wheels that suggest old wire wheels, the effect is friendly and cartoon-like, looking like a charming but rough-and-ready little British car, something you'd expect to talk and sound like Dick Van Dyke's Britface chimney sweep character from Mary Poppins.
There were only 139 sold even though Mitsubishi planned for about 1000, which means to me that there must be at least 861 fools in Japan who don't know when to snatch up an awesome car.
If you don't wish to be such a fool, it looks like you can pick up one here for under $5000! Why aren't we doing that? A fun, capable off-roader that looks like a vintage British car and is small enough to be a cheap, usable city car? Isn't that the dream? Or, at least, somebody's dream?
It should be. I love this kind of crap.