More cars we love are going electric, yet the infrastructure needed to support all these plug-ins in is still very much a work in progress. Case in point: my short test of a 2017 Ford Fusion Energi plug-in hybrid as an apartment dweller with no plug where I park.

(Full disclosure: Ford wanted us to check out a Fusion so bad that they left a 2017 Ford Fusion Energi at my apartment, fully charged and with a full tank of gas.)

When most electro-curmudgeons start ranting, they're usually thinking of having to deal with electric cars in rural areas, where range anxiety sets in the moment you realize the closest Walmart is thirty minutes away. Yet even in cities, it's a chore just to find somewhere to plug these cars in. We're pumping out big electric dreams on the hopes that someone will figure out charging, somehow.

G/O Media may get a commission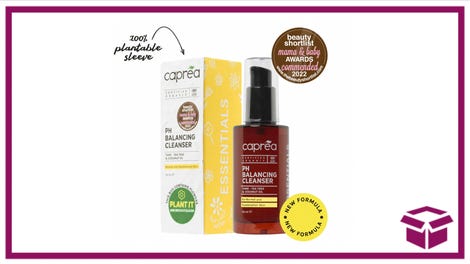 Save $9
47% Off Essential Organic PH Cleanser
Sustainable beauty
Caprea's Essential Organic PH Cleanser is just $10 with promo code TEN. Normally $19, this foaming face wash is crafted with organic Monoi oil. It's meant to target the production of oil secretion while protecting your skin against air pollution. Normally $19, you can save big on this richly-lathering face wash while supporting a brand that keeps the environment top of mind.
A number of new hybrid cars are on the horizon, including wildly popular vehicles like the Ford Mustang and F-150. New halo cars, such as the Porsche 918 and Ferrari LaFerrari, often come with a plug to recharge their hybrid engines.

That's if you own a house, usually. Wall-mounted fast chargers for hybrids or full-on EVs like the ones Tesla makes are all but a requirement.
If you rent or live somewhere with a shared parking area where you can't install your own car charger, it's easy to feel as if these fuel-efficient plug-ins of the future are simply not for you. Regardless, I wanted to have a go at it: could I figure out how to charge a plug-in hybrid for a week?
The Car

The Ford Fusion Energi is a medium-sized, comfy boat of a car, smaller than a Taurus but still big enough to be supremely practical for most people. It has a neatly quilted interior, a sharp if conservative exterior, and a funky rotary dial that shifts it into gear in place of the standard knob.
The black plastic controls for the HVAC and infotainment unit look like they're straight out of 1994, but it thankfully pushed out ice-cold air conditioning (which, let's be honest, was all I really cared about when I had this car last fall in Texas.)

As with many hybrids, the Fusion Energi has a large box in the trunk that hides its hybrid systems. Trunk capacity is reduced by almost half when compared to its non-hybrid counterpart: 8.2 cubic feet compared with the regular Fusion's 16 cubic feet.

Visions of a hybrid cousin of the rowdy NASCAR Fusion were soon quashed by the Fusion Energi's sluggish performance. With only 188 combined system horsepower and 129 lb-ft of torque in a 3,986-lb car, the torquey pin-you-to-your seat factor found in other hybrids and electrics isn't there. Ford's big sedan feels underpowered even in comparison with the humble Toyota Prius.

The Fusion Energi's electric-only mode—which ekes about 19 miles out of the car's 7.6 kilowatt-hour lithium-ion battery—doesn't last long. When it runs out, the inline-four gasoline engine seamlessly kicks back in, making it an ideal car if you can't always find an open plug. You won't get stranded in the Fusion unless you also forgot to get gas, in which case, oops!
The Fusion offers several ways to monitor your electric energy consumption, both in real-time graphs to the left of the speedometer and in more detail on the infotainment screen. If you want to know how long it should take to charge, just look in the settings menu for an estimate.
Obviously, I couldn't make use of the Fusion's ability to start charging when the car is plugged in overnight when electricity is cheapest. While regenerative braking helped fill the battery back up little bits at a time, I soon started looking for a plug so I could have more power at once.
Say, I Know A Plug

I wanted to tinker with my race car a bit, so I took the now-barely-charged Fusion to Harris Hill Raceway. Several track members had Teslas, so a charger had been installed in the garage.

Unfortunately, the Tesla charger didn't fit, as Tesla uses a different style plug than the Fusion. (Will someone please standardize these things already?)

So, I tried plugging it into the 120V wall plug using Ford's converter, just to see if the car would charge at all. I left it for about an hour, but the bar showing the available amount of charge barely moved. I got up to a whopping 15 percent charge from somewhere in the single digits.
When I spoke with the Ford representative who loaned me the car to ask if I'd plugged it in wrong, he noted that it takes about eight hours to fully charge the car's battery. Ford's official specifications claim it takes seven hours to a full charge on a 120V plug. At that rate, why bother?
Mind The Brakes

After I became frustrated by how long it took to recharge the car, I remembered hearing a Le Mans prototype driver talk about how the addition of regenerative braking systems to the cars forced him to lengthen his braking zones to recapture more energy.

So, I started braking painfully slowly to recharge the battery more. The Fusion has a "Brake Coach" graph that shows if you're braking gradually enough to recapture as much energy as possible. Ford claims that the Fusion Energi can recapture up to 95 percent of the heat energy lost in braking using their regenerative braking system. In turn, braking for every stop for as long as I could put more charge back in the car far faster than the 120V wall plug.
Even with some electric power back, my heavy-footed tendencies weren't giving me anywhere near the estimated hybrid mileage. I saw 32.3 MPG on the dashboard during this time instead of the EPA estimate of 42 MPG combined. That's still not bad for a big midsize sedan, but it's pretty clear that the Fusion Energi is meant for people who have a much more chill driving style than I do.
That Other Plug I've Seen

Per Ford's specifications page, it only takes two and a half hours from a dead battery to a full charge from a dedicated 240V charging station, so that's what I tried next.
Finding a plug is relatively easy in most major cities. Phone apps like PlugShare provide maps with notes on charger type, pricing structure and usage restrictions. Many apps can also tell you if a specific charger is in use or not.

After a call to set up an account with ChargePoint, who ran the charger I'd parked at, I was good to go. Setting up an account was $25, which then becomes available funds to use for charging.
I could see the charger's progress in the app while it charged. I managed to kill a full hour and 45 minutes, which gave me 6 kWh of energy and took $3.50 out of my account. That's cheaper than a tank of gas, but you definitely pay in time instead.

This was the closest to a full charge I'd gotten with the car: 85 percent!

ChargePoint is somewhat annoying for rare users of EVs, though. When you dip below $10 in your account, it automatically adds another $25 from your payment source. It's good that they say this is the policy up-front in the welcome email, but I can see this becoming an unpleasant surprise for an occasional user who forgets about it.

---
What I discovered in my week with a plug-in is that plug-in vehicles are still a luxury. They're made for people with access to plugs, who own their own homes, or who have the time to stay in the same place for two hours while the car charges.
If this is truly the next big thing in cars, we're going to need a lot more public chargers—especially in residential areas and near office buildings—and soon.

Then there's the problem of cars hogging the plug, which is something Tesla has started to crack down on. It's a bit like parking at a meter, but planning activities around the availability and allowed duration of chargers is a big departure from fueling it up in five minutes and parking wherever.
If EV technology improves to where it takes far less time to charge, then electric and plug-in hybrid vehicles will be a much easier sell for even drivers like me.

---
Engine: 2.0L Atkinson-cycle inline four plug-in hybrid with an 88 kW permanent magnet AC synchronous motor
Power: 141 HP at 6,000 RPM / 129 lb-ft at 4,000 RPM
Total Combined System Horsepower: 188 hp / 195 hp in charge-depletion mode
Transmission: Electronic continuously variable transmission
0-60 Time: 8.6 seconds (not listed by Ford; as tested by Car and Driver)
Top Speed: 105 MPH in hybrid mode (per C&D); 85 mph in electric-only mode (per Ford)
Drivetrain: Front-wheel-drive
Curb Weight: 3,986 pounds
Seating: 5 people
MPG (Gasoline only): 43 City / 41 Highway / 42 Combined (from Ford; EPA lists combined number only on monroney)
MPGe (Gasoline and Electric): 104 City / 91 Highway / 97 Combined (from Ford; EPA lists combined number only on monroney)
MSRP : $41,120 base / $41,995 as tested in "Platinum" trim before discounts / $39,995 as tested after $2,000 Fusion Energi discount
2017 Ford Fusion Energi SE FWD Specs
Engine type
Gas/Electric I-4
Transmission/Drive
CVT w/OD