I'd heard the jokes about VTEC kicking in. I'd come across a meme or two. But until I was sitting two feet from a mid-mounted VTEC motor in a 1,950-pound Italian roadster, I didn't understand how life-changing it could be.

(Full Disclosure: Midwest-Bayless Italian Auto let me take one of its K20-swapped X1/9s on a three-hour joyride. I returned the car with substantially less gas than it started with.)
The wheels are courtesy of Midwest-Bayless Italian Auto. It's a specialty shop in Columbus, Ohio where someone had the absurd idea of putting a 220-horsepower K20 from a crashed RSX Type-S in the engine bay of a Fiat from the 1970s. 
VTEC, for those not Baptized in the Church of Honda, is the core technology that allows Honda to make high-performance engines that still delivered efficiency. While a basic engine uses a single cam profile that allows in a certain amount of air, VTEC engines have two.
At low RPM, the cams let in small amounts of air and use an equally small amount of fuel. When you get into the far reaches of the tach—colloquially known as when VTEC kicks in, yo—the car switches to its more aggressive cam profile that allows in more air. Having more air allows the engine to burn more fuel, which makes the car significantly more powerful at high RPMs.
As for pairing that with the old Fiat–the idea ranks somewhere between the large hadron collider and the Doritos Locos Taco in terms of genius and ingenuity. But absent the scientific backing of the collider or the marketing budget of Taco Bell, Midwest-Bayless instead handed me the keys so I'd have a chance to proselytize the way forward.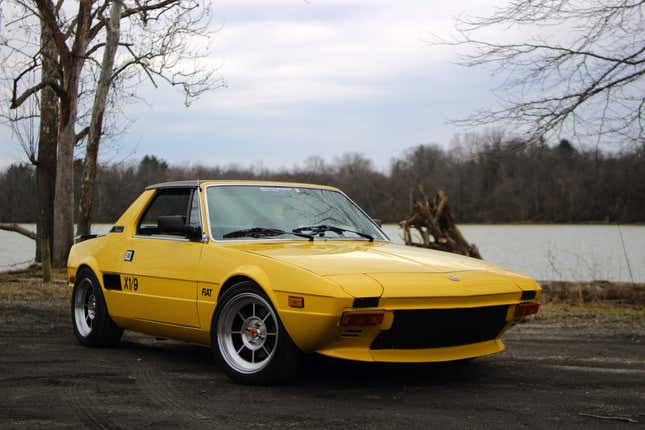 Let's start with the base car. The Fiat X1/9 debuted in 1972, and seems to have perfect characteristics. Mid-engined, rear-wheel drive, with a manual transmission, it was the lightweight Italian sports car of your dreams. Except, "sports car" may be a bit overzealous; the original X1/9 coughed out just 63 horsepower. Later models brought that up to a dizzying 75 horsepower, good for a blistering sprint to 60 in, well, 11 to 12 seconds.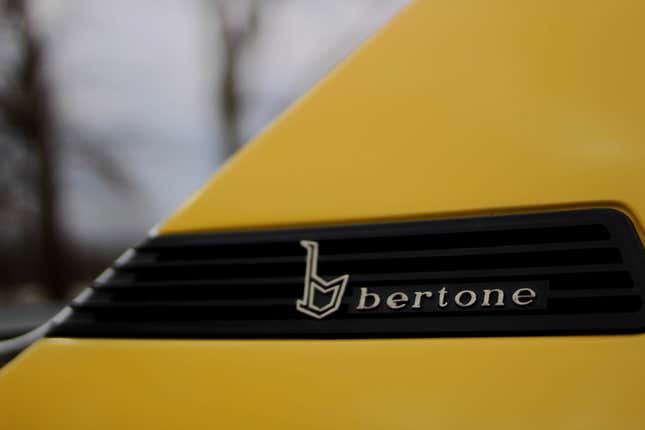 Oh, and it was a Fiat engine from the 1970s. So not the pinnacle of reliability.

Even still, the X1/9 has an active enthusiast following today. And among that following, Midwest X/19 was the go-to place. In 2009, they acquired Bayless Fiat Lancia world and became Midwest-Bayless Italian Auto. (Though it offers service on Fiats of all types, Midwest-Bayless Italian Auto works mostly on X1/9s. More than 170,000 of these things were built, after all.) Despite rising to prominence for their ability to service Italian cars with original parts, the shop is also in the custom fabrication game.
That's why I'm here. For all their love of the product, these guys know that while the phrase "Italian reliability" doesn't scare off the average enthusiast, 11 seconds to 60 might.
Enter the K20 conversion kit, providing 220 horsepower in just about the most reliable way possible: a Honda motor.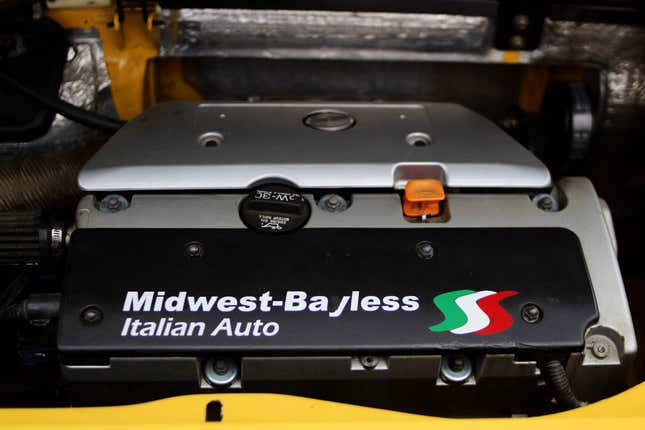 It's a conversion that, as of right now, can only be done by Midwest-Bayless or with one of their kits. K24 motors will also fit, but the kit costs $3,699.79 either way. You'll also need a motor and a Fiat X1/9, plus some serious tools to accomplish what their site says is required:
Additional modifications are required to the chassis of the car in order to install the K20 / K24 engine and drive line. This kit alone will not do it all! Cutting of the frame rails in specific locations and gusseting of those sections is required. Modification to the fuel lines, fuel pump location, engine bay cooling lines, clutch hydraulics, and throttle body are required.
Or, forget all of that. Have them provide a turnkey car, like the yellow example I drove. With a flawless body, gorgeous interior and full K20 conversion, it costs $31,900. For reference, nice X1/9s on Bring a Trailer have recently gone for between $11,000 and $14,750.
I wasn't sure what to think. That's a lot of money for an old Fiat.
Then, somewhere along OH-315, I pinned the throttle. At 3,000 RPM it was fun, with direct steering and a nice soundtrack just a few inches from your head. Then, somewhere above 4,000 RPM, VTEC hits.
And everything changes.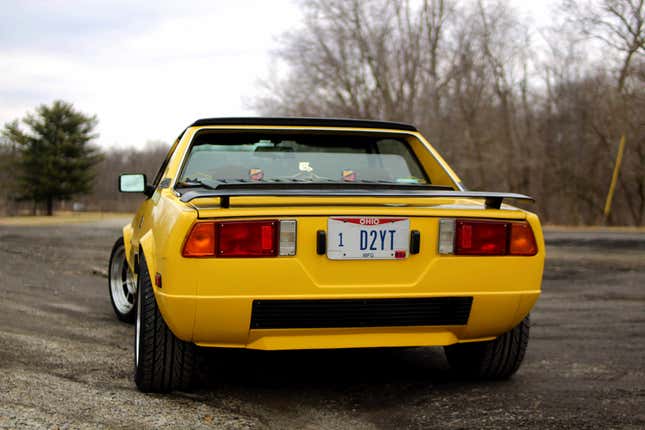 It sounds like a dual-mode exhaust has just opened up; the K20 screams as it fires down the twisty riverside road. It's hilarious.

Not to harp on the numbers, but the significance of 220 horsepower in a 1,950-pound car cannot be ignored. A 2019 Miata, a paragon of lightness and simplicity, weighs in at 2,339 pounds. We also heralded a recent power bump, which brought it to 181 horsepower.
So the X1/9 weighs 389 pounds less than a new Miata, produces 39 more horsepower, and costs less than the $33,050 Miata Grand Touring that's an absolute steal, as far as new cars are concerned.
Of course, it's not fair to compare the X1/9 to a top-trim Grand Touring Miata. It's not particularly fair to compare the X1/9 to anything new. When it comes to simplicity and lightness, the dedication is almost psychotic. That, or the Italians were just being cheap.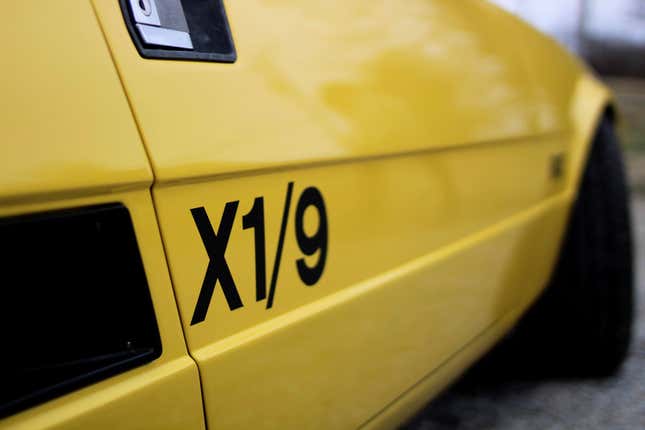 There's the obvious stuff. The seats, top, transmission and mirrors are all manual. To be expected. Crank windows: yes. A/C: no. Again, it's an Italian car with roots in the '70s. That also means no airbag. Also, forget about driver assists like ABS; the X1/9 doesn't even have power-assisted brakes. Power steering is an unfathomable luxury.
All of this helps deliver a driving experience that is truly phenomenal. There's no filter, no safety net. It's the rawness of manual steering and manual braking with the speed and power of a modern car.
They say it's good for a five-second sprint to 60, but in a car the size of a thimble without any sound insulation, it certainly feels quicker. It also handles extraordinarily, with superb feedback and surprisingly forgiving dynamics.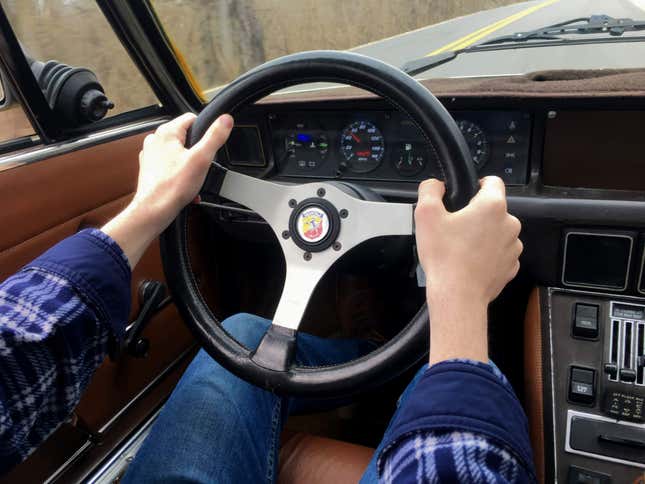 Part of that is thanks to the way VTEC works. Because the engine doesn't send a lot of torque to the wheels when revs are low, you can roll onto the throttle from a start or out of the corner without overwhelming the tires. Once it's hooked up, you cross into VTEC territory and explode forward.

It's seriously addictive. We talk a lot about cars that make us smile, but the K20-swapped X1/9 is one of the only cars I've driven that has made me laugh like a supervillain when the power hit.
To be sure, it isn't perfect. The seats were comfy for me, but I'm a 135-pound college kid that isn't exactly representative of the larger population. Weight and height concerns are worth mentioning because larger or taller people simply won't fit comfortably.
And you know what they say about guys with big feet... Mainly, that they won't be able to operate the cramped and tiny pedal box of the Fiat X1/9. And big socks, or something.
You'd also probably expect that a Fiat from the 1970s, modified by a shop in Ohio, would be a nightmare in traffic. On that point, I'm happy to report that you'd be wrong.
On the I-70 jaunt back to downtown Columbus, the Fiat was docile and comfortable. It doesn't have air conditioning and this model didn't have a radio, but in terms of behavior, I had no complaints.
The ride is surprisingly good at low speeds and the rigid X1/9 doesn't have any of the flex or creaking that my 1995 Miata exhibits over bumps. Really, it never got annoying.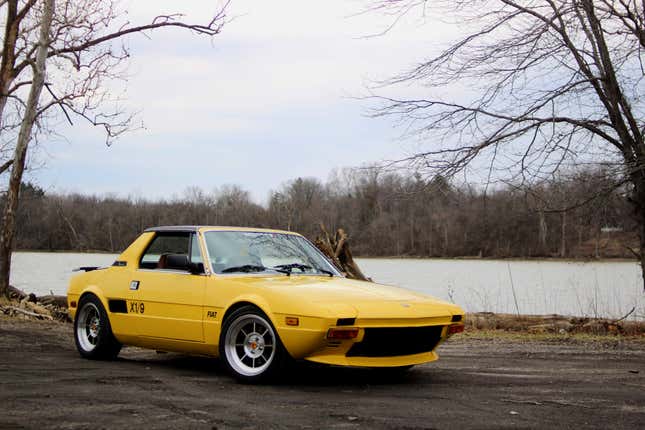 More than that, it made everyone smile. In just a couple of hours, nearly a dozen people waved, nodded or stopped to shout praise at the little Yellow Fiat. On a crowded interstate or a windy country road, the X1/9 makes people happy.
Maybe that's why I'd take it in a heartbeat over a modern Miata or Toyota 86. I know it's less safe, less practical and less refined. There's no Bluetooth or climate control. There are no safety systems to pull you back from the edge.

But there's also no holding back. It's a maniac, only there to entertain you and make you laugh. Everything that doesn't contribute to that mission is removed. It's just an absurd engine, a great body, simple controls and a smiling driver.