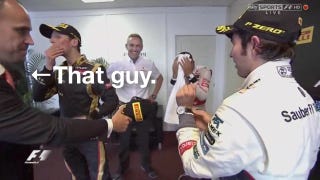 There's a guy in a suit who appears at the end of each Grand Prix, much like the G-Man in the video game Half-Life, and hands the drivers various items before the podium ceremony. Long-time Jalopnik Formula One correspondent Natalie Polgar loves him for his cool. —Ed.
The race is over. Hot girls, effortlessly strenghtening the stereotype of pretty women who can't comprehend a minute of the race, clap gleefully for the top three. In my private hell, I will surely be forced to watch nothing but them forever and ever.
And suddenly, out of blue, there he is, my savior, a comforting figure. My FACS checks mostly fail on him, but who cares. I'm sure he's watched the race, he is interested and he cares about these people. His professional routine is simple: promo items, towel, water, some words, no chat, no fake smile. A man who truly respects them and who can create, for a few peaceful moments, space for some honest post-race comments and emotions.
Soon, the racers will have to be able to answer mostly dull, repetitive questions in a diplomatic way, standing in the corrupt sands of commerce. But for a few moments, with the help of a shadowy figure, they can just react and be normal. I have to admit these are my most enjoyable post-race moments.
Natalie Polgar grew up watching Formula One with her grandfather and has developed an incredible, subtle eye for motor racing. My posts about Formula One over the years would have been far inferior without her keen observations and her frame-by-frame analyses of passing moves, racing lines and team tactics. She's also put together all of our race galleries in 2011. Thank you so much. – P. Orosz