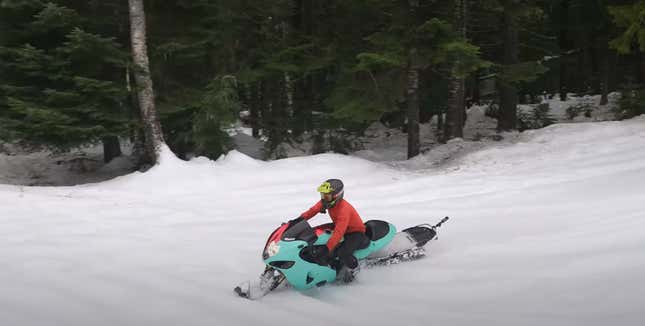 So as someone who's never lived somewhere that it snows a whole bunch, the concept of "snow bikes," aka dirt bikes with rear tracks and front skis rather than wheels, is kind of a new one. What isn't a new concept is just how damned silly the 155-horsepower (to the wheel, according to Motorcyclist magazine) Suzuki Hayabusa is in basically any situation. What do you get when you combine the two? According to Grind Hard Plumbing Co on YouTube, you get a good time.
The Suzuki X-90 Is Either Awfully Brilliant or Simply Awful
The second most surprising thing about this conversion is not that it happened at all – where there's a will, there's a way – but that it was seemingly not that hard to do. Yeah, some fabrication was necessary, but in the world of custom motorcycle anything, it seems pretty minimal.
What then, is the most surprising thing? The fact that the mostly finished product works so well. The dudes from Grind Hard seem to have a fairly epic time beating the hell out of the SnowBusa on their property and, in the end, only plan to make a couple of modifications to get it ready for hardcore, high-speed mountain riding.
So, now that the Hayabusa has conquered drag strips, streets and snow, where do you want to see Suzuki's 1,300cc monster next? My vote is a desert racing/Dakar-style build.