It took maybe less than 10 minutes of driving the 2015 Subaru WRX STI before I started falling back on old habits.
Habits like shifting at redline every single chance I could get; using clear onramps and interchanges to test how many lateral-Gs I can pull; turning down the radio to hear the sweet exhaust note and boxer engine growl; constantly being on the lookout for empty gravel roads; and politely saying "No, it doesn't work that way" to friendly folks at gas stations who walk up and ask if it will do a four-wheel burnout.
If nothing else, the STI will keep you entertained on long drives. Very entertained.
G/O Media may get a commission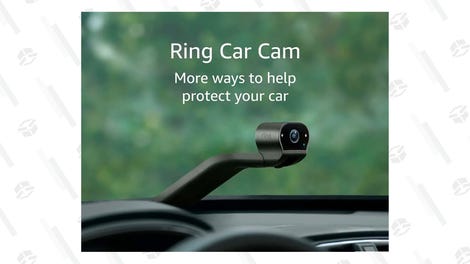 About 305 miles of asphalt lay between Washington D.C. and Watkins Glen, New York. If you run into traffic, and you almost certainly will because D.C. is involved, it's a drive that will take six hours and change.
Logic dictates you'd want something smooth, comfortable, and incredibly efficient, like that Audi A8 TDI Maté and Travis took across Europe.
Not me. I like my road trip cars when they have a huge rear wing, a turbocharged boxer engine, a ride quality that's on the rough side, an excellent six-speed manual, a crazy loud exhaust, and a tendency to eat corners for breakfast. Oh, and four doors and a decent-sized trunk.
I think the new STI it's a fine road trip car, but then again, I'm old hat at this kind of thing by now.
(Full disclosure: Subaru needed me to drive the new WRX STI so badly they gave me one for a week with a full tank of gas. Then they took it back. And now I'm sad.)
The new WRX STI has been around a few months now, so you may already know all about it. If not, here's the deal. While the also-redesigned 2015 WRX gets a fancy new 2.0-liter direct injection boxer four with 268 horsepower, its big brother the STI makes do with the same 305 horsepower, 2.5-liter "EJ" four it's had for years.
"Makes do." That's what some critics will say, anyway, and it's a total joke. Though the EJ engine is now old enough to drink, smoke, vote and even rent a car of its own at the airport, it remains a peach of an engine and an integral part of the STI's rude, unpolished, character. More on that in a bit.
It gets a lot of goodies over the standard WRX as well, like an adjustable differential and variable throttle mapping, a better six-speed manual, a stiffer chassis and springs, and hydraulically-assisted steering instead of its little brother's electric rack.
But there's a good chance you know all that, and you know it's competent on the track and on the street because of course it is; the STI has always been able to back up its ridiculous wing. What you want to know, as I did, is whether the STI holds up as a road tripper.
I went to upstate New York with my wife, who for my birthday got us both tickets to the Sahlen's Six Hours of the Glen race and with a cabin in nearby Naples for when we weren't at the track. (Cool lady, my wife.) Coincidentally, Matt, Mike and Andrew were there too in a crazy party RV, and so we all grilled burgers and hung out with race car drivers in it.
It was a great trip, but for me one of the biggest highlights was the drive, which felt like coming home in a lot of ways.
I should explain where I'm coming from with my love for the WRX. It starts with Car and Driver, October 2001.
The issue featured a three-way comparison test between the Audi S4, the BMW 330xi, and a vastly cheaper but equally capable newcomer to the American market, the WRX, which had been around in Japan and Europe for years.
I was 16 years old when I read that, gobbling up every car magazine I could find and dreaming my humble Corolla was a rally car too. And granted, I had known about the WRX for years thanks to stuff like Gran Turismo and Initial D, so I was eagerly awaiting its arrival in the U.S., even if I was a kid with no chance in hell of actually owning one.
But that story — penned by Larry Webster, who these days is doing a bang-up job running the show at Road & Track — permanently cemented my lust for the 'Rex. The Subaru didn't win the test, but it did beat out the 3-Series back when not a lot of cars seemed to do that, and it came close to taking down the S4. It also cost some $15,000 less than the other two.
I was sold. The WRX was a giant-slayer for the common man and I wanted in.
I think we enthusiasts are drawn to cars we personally identify with in some way, and the WRX always seemed a little more special to me than your garden variety sport compact. When it came to this country, all-wheel drive and turbos weren't nearly as ubiquitous as they are today. Plus, there was the racing heritage and the boxer engine; it seemed like 911 Turbo for guys who didn't have offshore bank accounts.
Very few cars could match its performance for its price when it debuted, and everyone else scrambled to keep up. Do you like the Ford Focus ST, the Mazdaspeed3 or Volkswagen GTIs that aren't fat, wallowing pigs? Thank a WRX owner.
It would be eight years later before I got the nicest and cheapest one I could find, a World Rally Blue 2008 model I bought from a used car lot in Austin the same week I got my first truly decent-paying job.
I didn't care that the magazine critics and the forum trolls said it was "softer" than its predecessor, or that Subaru seemed to agree with them and added a bunch of power for 2009. I was in love at first drive, and where everyone else saw shortcomings I saw potential. With some modifications — what's the point of owning a WRX if you don't mod it? — mine could run with the best of 'em. I daily drove it, I hooned it, I worked on it myself (poorly) and I tracked it. I loved my WRX.
Then I had to sell mine when I moved across the country, and I almost forgot how much I enjoyed driving these cars. Until now.
When you step inside the new STI, the first thing you'll do is marvel at the perfectly-shaped, perfectly weighted flat bottom steering wheel. You'll let the low-pitched rumble of the exhaust fill your ears while you marvel at the bright red gearshift knob and fake carbon fiber dash accents. Then there's the giant wing you see through the back window. If any new car in 2014 will make you feel like a Fast and Furious character, it's this wing.
Is the STI's interior that of a nearly $40,000 car? Hardly, although it's much better than its predecessors. But you won't care once you press the super-short clutch, shift into first and take off.
The word I'd use to describe the STI's acceleration is "eager." It blasts up to redline, faster than you expect at first, and it's always ready for more speed in the next gear. The turbo gets laggy until the motor hits the 3,000 RPM sweet spot, but after that it's blastoff time.
To me, the STI always felt like it had more than just 305 horsepower and 290 pound-feet of torque. In the week I spent with this car, I never found myself really wanting more power. It has way more than enough juice to thrive on those times when you need to shoot ahead of other cars on the highway and when you find a winding backroad somewhere. To me, it's just about the perfect realistic amount of power for a car this size.
And yet once you reach your desired highway speed and set sixth gear in for the long haul, the motor is surprisingly refined and steady. You still have enough power to pass without downshifting if you want — though you will because it's more fun — but it cruises extremely well.
Secretly, though, you'll be counting the miles until your next ramp because curves are probably where the STI shines brightest. The car's handling is brilliantly confident, sticking hard to the corner no matter how fast you want to go and with close to zero body roll. It has the best chassis of any Subaru I've ever driven, that's for sure.
But the real star of the show, as far as I'm concerned, is the steering. Like I said, it's hydraulic. It's heavy as hell, and feels close to unassisted at low speeds. It has miles and miles of road feel. And it's just about perfect. In this age of sanitized and numb electric racks, the STI is a reminder of what steering is supposed to feel like. Everything else sucks compared to this.
In fact, the steering is representative of the STI as a whole — it's got an old steering rack and an old engine and a wholly unrefined personality. It's a big-winged middle finger to all the polished, quiet, anesthetized cars on the market today. It involves its driver, makes them feel alive! It's loud and it's lively and it doesn't isolate you from anything!
Certainly not the quality of the road beneath the car, that's for sure. And that brings up a big question about whether a car is road trip-worthy: How's the ride quality? Well, it's harsh. Not the kind of harsh that punishes your spine and ass after a few hours, but it's not smooth.
I did, however, consider it to be within the acceptable range, and I thought it was worth the tradeoff for all its handling goodness. Your results may vary.
But here's the other benefit to road trips in an STI: You can put stuff in it! This is one of the things I loved most about my old car, too. Sure, there are plenty of fast, great-handling, rough-riding two seater sports cars out there, but in the STI you can stuff the trunk full of overnight gear, computer bags, a camera, groceries, and some bottles of wine you bought at a quaint small town shop and have room to spare. And that's without putting any bags or people into the ample backseat, either.
That's the great thing about the WRX and STI (and the Evo, too). It will handle everything you can throw at it. Grocery shopping? Done. Daily driving? Of course. Rally stage? That's what it's built for. Bad weather? Bring that shit on. Track day? You'll want to, since you'll never be able to exploit its limits in ordinary driving.
The other thing to figure in on any road trip, unless you're a millionaire and you don't care, is gas. The STI may be a four-cylinder, but fuel economy has never been its strong suit.
Taking it easy on the throttle when I could, I managed to push it up to an average of about 21 MPG, which didn't strike me as all that bad. Starting with a full tank in D.C., and including two trips from Naples to the Glen and the return trip, I filled up three times. I've certainly had worse. Again, it's the price you pay for fun.
In the end, I decided that not only is the new STI one of the best road trip cars I've ever tested, it's also probably the best all-around, do-everything performance car on the market right now. It tries to do everything well, and it mostly succeeds. If you need just one go-fast car in your life, it's hard to argue with this one.
It also did something I didn't expect: it made my miss my old car. After I sold the WRX I never thought I'd get another one. It's not that I didn't like my car, it's just that I was ready to try something different. Something with a V8, maybe, something rear-wheel drive, or a roadster, or a hot hatch. You only live once, so why stick to just one kind of car, right?
But this new car is so excellent all-around that it makes me re-think that. I may have to put one in my garage sooner rather than later. Not right now, but maybe down the line.
I need time to come up with my next idea for a road trip.
2015 Subaru WRX 4dr Sdn Man Specs
Engine type
Intercooled Turbo Premium Unleaded H-4
Transmission/Drive
Manual w/OD