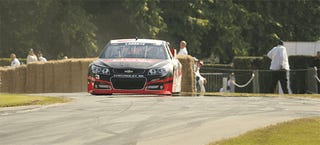 Austin Dillon's 2015 Chevrolet SS Sprint Cup car was being driven by Bobby Labonte when the Redcoats decided to fight back.
It's great to have these NASCAR machines here. They are loud, smell good and have no problem turning their fat tires into a cloud of smoke. But Bobby Labonte went a bit further today.
Indeed.
Don't worry, the 5.8 liter V8 motor sits way-way back, so 'Merica shall conquer.
Photo credit: Robert Stokes/Jalopnik
---
Contact the author at mate@jalopnik.com.