This is the Morning Shift, our one-stop daily roundup of all the auto news that's actually important — all in one place at 9:00 AM. Or, you could spend all day waiting for other sites to parcel it out to you one story at a time. Isn't your time more important?
---
1st Gear: Ford, Chrysler Accused Of False "Made In USA" Advertising
Ford and Chrysler are accused of misleading advertising in complaints filed with the Federal Trade Commission by an organization called the Made in the USA Foundation. The California-based group claims the automakers use misleading ads to market certain vehicles as made-in-the-United States when they are not. The foundation said it filed a complaint against Chrysler for its television and print ads for the Chrysler 300 in which the automaker uses the tagline "Imported From Detroit."
---
G/O Media may get a commission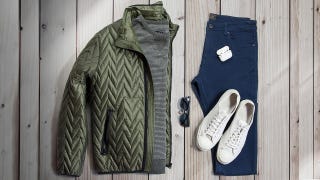 60% off
Jachs NY Fall Sale 60% Off
2nd Gear:Two-Thirds Of Chevy Sales Coming From Outside The U.S.
Two-thirds of Chevrolet sales are expected to come from markets outside the U.S. this year. Chevy is the only one of the five major global brands to increase its worldwide market share this year, it would not be a surprise if the bowtie-badged brand were to eventually ring up four out of every five sales in non-U.S. markets. "That's absolutely possible…though not a target," said Mark Reuss, GM's president of North American operations, following a dinner celebrating Chevrolet's 100th anniversary, to The Detroit Bureau.
---
3rd Gear:Mazda PR Tweets It's Working On New Rotary Engine
Mazda's PR team posted a tweet on its Japanese Twitter account to calm the Japanese brand's zealous fans, that claimed it too is being zealous. As in "zealously" planning the development of "new models" equipped with a rotary engine. The tweet said, loosely translated, "Mazda is aiming to achieve a breakthrough with the 'Skyactiv' technology, and we are zealously working on new models to house the next generation rotary engine."
---
4th Gear: Could Saab Declare Bankruptcy Today?
A last-minute rescue deal to save Saab will likely be blocked by the Chinese government, Autocar has learned this morning, which could mean that the company could be forced to declare bankrupt — possibly as soon as later today. Saab, which is currently in control of the courts while it applies to restructure, has been waiting on a $94 million loan from Chinese carmaker Youngman in order to pay wages as well as for the Chinese government to approve a further $328 million investment in Saab by Chinese car firms Zhejiang Youngman Lotus Automobile and Pangda.
---
5th Gear: New Vehicle Fuel Economy Flat In September
The Detroit News reports this morning that new vehicle fuel economy remains flat in the United States, according to the University of Michigan Transportation Research Institute. The average fuel economy of vehicles purchased in September was 22.1 mpg, unchanged from August. In the face of lower gas prices and a boost in demand for trucks, average fuel economy of all new vehicles bought last month is at its lowest level in the past year. Still, despite being at a 12-month low, average fuel economy for new vehicles sold is still 2 mpg better than in 2007.
---
6th Gear: Vygor Opera Is One Ugly GT-UV
Vygor, an Italian carmaker from Tuscany with a flair for grille flair, has officially unveiled the Opera — a new car designed to combine a GT with an SUV. Although Vygor has yet to unveil the full technical details for the car, we are told that overall weight will break only 3,300 lbs. It's still unknown where the engine comes from, but we're told it'll be offered in three different power flavors ranging from 300 to over 400 horsepower. The production of the Vygor Opera will be limited to 150 cars. It's also ugly as sin.
---
Reverse:
⏎ How Trucker-Girl Nancy Shevell Became Lady McCartney. [New York Observer]
⏎ Encore for a Muscle Car Legend. [New York Times]
⏎ Kid Rock Tour To Benefit Struggling U.S Cities. [MTV]
⏎ Competitors help carpet maker after flood. [Automotive News]
⏎ Dollar Thrifty Gets No Final Buyout Offers. [CNBC]
⏎ New BMW 3-series gets revealed on Friday. [Autocar]
⏎ DTE deal pulls out 1,400 street lights in Highland Park. [Detroit News]
⏎ 1930 Model A Ford Wraps a Year on the Road. [New York Times]
⏎ Obama, South Korean leader to visit GM plant, tout trade pact Friday. [Detroit News]
---
Today in Automotive History:
On this day in 2008, a man from Belgium named Luc Costermans sets a new world speed record for blind drivers: 192 mph. Costermans set the record in a borrowed Lamborghini Gallardo on a long, straight stretch of airstrip near Marseilles, France. He was accompanied by a carload of sophisticated navigational equipment as well as a human co-pilot, who gave directions from the Lamborghini's passenger seat. [History]
Show us your tips!
Got tips for our editors? Want to anonymously dish some dirt on a competitor? Know something about a secret car? Email us at tips@jalopnik.com.
Lost in our new layout?
Click here for the Opposite Lock or Tips forums. Want a more "blog-like" look? Click the button up top next to "Top Stories."
Get more Jalopnik!
Want even more Jalopnik? Want to know which of your friends read us? "Like" us on Facebook and follow us on Twitter.
---
You can keep up with Ray Wert, the author of this post, on Google+, Twitter or Facebook.