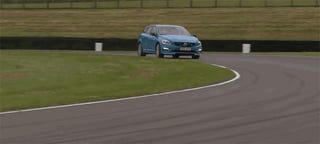 Antony Reid has a bit of history with fast Volvos, and he thinks the V60 Polestar will be supercar fast at the Goodwood hillclimb because it's stable as s*** at speed.
Reid was racing for Nissan when Volvo also wanted the crown at the British Touring Car Championship. And hitting one of the S40s on the inside led to a memorable moment of his career.
The V60 Polestar is the second fast production Volvo of the new era, and while it's price tag and vibrant blue paint job might suggest it to be some kind of a Chinese-Swedish joke, it's actually what we've always wanted: a fast but practical Volvo just like the 850 Turbo was.
Get one in black and shock BMW drivers with two bicycles in the back.