Good Morning! Welcome to The Morning Shift, your roundup of the auto news you crave, all in one place every weekday morning. Here are the important stories you need to know.
1st Gear: Be Like BMW
And not with fast M cars. Volkswagen comes to the Geneva Motor Show "under a cloud of diesel smoke," as the news reports put it, and six months on from the scandal with no fix in sight (in America at least) the automaker is trying to show it's changing for the better.
According to Reuters, that means a management and production system that's faster, less top-heavy, and cheaper.
Its concept for the Geneva car show will be the first vehicle the Volkswagen brand develops under a new, decentralized system designed to emulate rival BMW, which has a track record of quickly and efficiently getting new cars to market.
VW (VOWG_p.DE) will present the concept version of an entry-level sport-utility vehicle (SUV) in Geneva on Tuesday, three sources at the company said, and will develop the road version more rapidly under the new streamlined process.

Analysts following the company say it could lift margins at the core brand as the parent grapples with the costs of its scandal.

The move is pioneered by brand chief Herbert Diess who previously oversaw R&D while an executive at BMW, where an agile structure has long allowed expert teams to run vehicle development without interference from top management.

Volkswagen has previously been known for a system that spread responsibility for model development across layers of committees and funneled final approval through top executives.
G/O Media may get a commission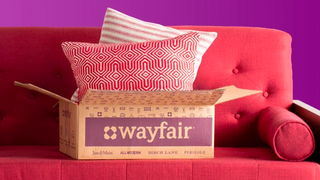 Big deals
Wayfair Surplus Sale
These changes toward decentralization reportedly were in the works since last July, before the diesel shitstorm happened.
2nd Gear: When Did Winterkorn Know?
There's reports that say Volkswagen executives knew for years about the diesel cheating. But a new story in a German newspaper claims former boss Martin Winterkorn knew the company admitted to regulators the cars were cheating two weeks before that became public knowledge.
Which makes sense, and two weeks is better than six months or two years. But here's why that matters, via Reuters:
A letter pointing to the then-CEO could lend weight to the cases of shareholders planning to sue Volkswagen for compensation for the plunge in its share price, saying VW should have told the public as soon as it became aware.

German financial watchdog Bafin is investigating whether Volkswagen breached disclosure rules when it admitted to falsifying U.S. emissions tests in September. It said last month the probe would probably take several more months.

In parallel with investigations by various authorities, Volkswagen has hired law firm Jones Day to carry out an internal probe into identifying who ordered engineers to develop and install software designed to cheat U.S. diesel-emissions tests, and who knew.
So many headaches from Dieselgate.
3rd Gear: 'Recall Of The Century'
Automotive News has a good rundown of the state of the industry's other current shitstorm, the Takata airbag recalls.
According to the National Highway Traffic Safety Administration, about 31 percent of all recalled Takata inflators had been repaired as of Feb. 12, up from 18 percent in mid-August.

The challenges, and human costs, continue to mount. A 52-year-old man was killed in December in South Carolina when his 2006 Ford Ranger struck a cow on the road, and the airbag exploded upon deployment. It was the 10th death linked to the faulty inflators, and it prompted an expansion of the recalls that added 5 million inflators to the tally.

And Takata is facing a daunting ultimatum from NHTSA: Prove by the end of 2019 that its ammonium nitrate inflator propellant is safe, or be forced to recall every ammonium nitrate inflator ever made.
Check out the full story to see where all the affected automakers are at in getting their Takata-equipped cars fixed. Spoiler alert: not great.
4th Gear: Sergio Goes Big On His Own Company
Sergio Marchionne needs Fiat Chrysler to be successful. Not just because it's his job, but because he's way more invested in personally than other auto execs, reports Bloomberg (via The Detroit News):
The outspoken manager, who transformed the struggling former Italian conglomerate into a trio of companies worth about $24 billion, has most of his personal wealth tied up in shares of Fiat and former units CNH Industrial NV and Ferrari NV, at both of which he serves as chairman.

His total publicly disclosed holdings are worth $232 million as of Thursday's closing prices, making him more invested in his employers than fellow auto bosses. Carlos Ghosn, CEO of Nissan Motor Co. and Renault SA, has shares in the automakers worth about $49 million, according to data compiled by Bloomberg. Mark Fields, CEO of Ford Motor Corp, has company stock worth about $12 million, while General Motor's Mary Barra owns about $3.2 million in the Detroit carmaker.
5th Gear: New Car Discounts For Uber Drivers
I'd be an Uber driver for extra cash every now and then if it weren't for my tiny two-door Mini Cooper S and extensive criminal record. But would-be Uber drivers can solve at least one of those problems, as some dealers are now offering Uber discounts on cars, says Bloomberg:
DePiano, a general sales manager at Kia of Stamford in Connecticut, said he and his team in 2014 crafted one of the first discount programs for Uber drivers and the idea was an instant hit. In the first year, the dealership sold about 30 cars — equal to a month's volume at the time — to Uber drivers from as far away as Maine and Georgia through the program, which offered a $500 discount off any new or used model, DePiano said.


"Over here, they call me Steve Jobs," DePiano joked. "If someone Googled 'Uber driver discounts' we would come up in a bunch of ads and we would get phone calls everywhere and sell to people everywhere — our used car inventory, our new car inventory."

Other dealerships and brands quickly caught on, and now even Uber Technologies Inc. has negotiated discounts with several non-luxury brands to help get drivers into qualifying cars. Uber said its arrangements with automakers have saved its drivers around the world $20 million. They have also expedited thousands of sales for automakers, which are enjoying the start of what's projected to be another record year of light-vehicle sales in the U.S. February's sales rate probably accelerated to 17.6 million, the average of 12 analyst estimates in a Bloomberg survey, the fastest pace for the month since 2000.
Hey, $500 off is $500 off.
Neutral: Geneva Motor Show!
What are you looking forward to as Europe's automakers show off their finest finery?
---
Contact the author at patrick@jalopnik.com.