This is the Morning Shift, our one-stop daily roundup of all the auto news that's actually important — all in one place at 9:00 AM. Or, you could spend all day waiting for other sites to parcel it out to you one story at a time. Isn't your time more important?
The Ford Taurus Is Reborn — But Only For the Middle East
---
1st Gear: Why I Am So Excited For The Ford Focus ST
We already knew that at next week's Frankfurt Motor Show, Ford will unveil the Focus ST, a global performance car that, next year, will be sold in North America for the first time. Enthusiasts like us have been eagerly awaiting the car because we hope it signals a renewed commitment from Ford, once a leader in profitable performance vehicles, to bringing cheap awesomeness back to the lineup. Jost Capito, Ford's head of global performance vehicle strategy, insists the Dearborn automaker plans to increase its stable of performance vehicles under different names around the world, even as work continues on a new 2013 Mustang GT500.
---
G/O Media may get a commission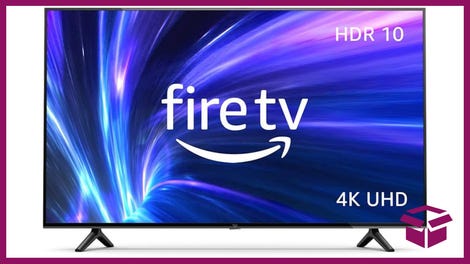 42% Off
Amazon Fire TV 50" 4K Smart TV
2nd Gear: Honda Will Recall 960,000 Fits
Honda Motor Co. said today it would recall about 960,000 Fit subcompacts and other models globally to repair defects including malfunctioning power window switches. No accidents have been reported due to the defects, a Honda spokesman in Tokyo said. Still, better to be safe than sorry that a defect might cause fiery death!
---
3rd Gear: UAW Will Target GM For Bargaining...
Bloomberg's reporting this morning that the United Auto Workers, bargaining a new contract for U.S. automakers, is turning to GM to set the pattern for wages and benefits for the U.S. industry, said three people familiar with the discussions. UAW bargainers are seeking a large signing bonus and new work in U.S. factories in exchange for not increasing fixed labor costs at GM, Ford and Chrysler, said one of the people, who asked not to be identified as revealing internal discussions. Negotiations at GM are farthest along and will continue through the weekend, the people said.
---
4th Gear:...But Ford To Strike
Based upon initial tallies last week, rank and file Ford United Auto Worker members were leaning overwhelmingly toward a national strike authorization against their employer. With the current national labor contracts set to expire September 14 at General Motors, Chrysler and Ford, local union representatives at Ford were reporting 97% of their membership was voting to authorize a strike, if necessary. Makes sense. Especially considering Ford is the only one of the Big Three domestic automakers where, legally, workers can strike. Both GM and Chrysler and their union workers agreed in accepting the federal government's auto bailout in 2009 to resolve contract issues through binding arbitration.
---
5th Gear: Citroen's Tubik Concept Is A Giant Nine-Passenger Guppy
The Citroen Tubik may look like a giant guppy, but the new nine-seat MPV concept car shows how the French see the people carrier of tomorrow. It draws inspiration from the Type H or TUB (French slang for a front-wheel drive commercial vehicle) van from Citroen's history books. So it's a spacious monobox and aims to solve the usual MPV dilemma of seats or baggage, by being simply massive. The Citroen Tubik'll seat nine at full capacity, but with a more likely load of four or five, the trunk space is said to be massive.
---
6th Gear: Fisker To Unveil A Shooting Brake For Frankfurt
Fisker will show a new Karma shooting brake (not pictured) at next week's Frankfurt Motor Show. Apparently, customers of the Karma have been disappointed by the trunk space — pinched by the bulky batteries and range-extender hardware — so Henrik Fisker's team has designed a new shooting brake to offer an expanded luggage hold while retaining the grace of the four-door coupe. Because that's what Fisker needed — time spent working on another model.
---
Reverse:
⏎ Watch Tony Kanaan's Indy Car fly over Helio Castroneves, "Dukes of Hazzard"-style. [Jalopnik]
⏎ Team Detroit's new leader helps Ford reach consumers with marketing through social media. [Automotive News]
⏎ Obama Says His Jobs Plan Will Push for Rebuilding Nation's Infrastructure. [Bloomberg]
⏎ GM Riles CA Electric-Car World (Again) Over AB475 'Charger Sharing' Ban. [Green Car Reports]
⏎ Revised interior and exterior styling and more features for MY12 Holden Commodore. [GoAuto]
⏎ The Best $650 Car Book, Ever! [Brett Berk]
⏎ Chevy Camaro "SS" races into Germany sans ze "SS" badge for a bargain price of $54,700. [Auto Motor Und Sport]
⏎ Volvo Car Corporation gives XC90 new exterior and interior. [Volvo]
⏎ More details of Eterniti's Hemera super-SUV emerge ahead of Frankfurt show. [GoAuto]
---
Today in Automotive History:
On this day in 2007, Volkswagen of America announces that it is moving its headquarters from Auburn Hills, Michigan to Herndon, Virginia. The company made the move, it said, to be closer to the East-Coasters who buy most of its cars. "You want to work in an environment where you see your customers," Volkswagen CEO Stefan Jacoby told the Washington Post. "You don't want to work where you basically see only American cars of the Big Three." [History]
Show us your tips!
Got tips for our editors? Want to anonymously dish some dirt on a competitor? Know something about a secret car? Email us at tips@jalopnik.com.
Lost in our new layout?
Click here for the Opposite Lock or Tips forums. Want a more "blog-like" look? Click the button up top next to "Top Stories."
Get more Jalopnik!
Want even more Jalopnik? Want to know which of your friends read us? "Like" us on Facebook and follow us on Twitter.
---
You can keep up with Ray Wert, the author of this post, on Google+, Twitter or Facebook.