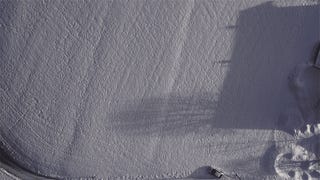 One rally car, some very deserted roads, and a lot of fresh snow. This is 'EVO' and it's one of the prettiest car videos I've seen in a long time.
The video shows bike racer Guido Tschugg playing in his backyard with his Mitsubishi Evo. Not a bad backyard. Mario Feil did the static shots and airV8 did the aerial work.
I saw this pop up on MotoringConBrio the other day and we still can't get over how good it looks. The aerial shots in particular are just spectacular.
How is it that drones and cars go so well together?