The Ford F-150 Lightning was a high-performance on-road pickup truck that existed solely to do donuts and sing songs of eight cylinders. And it was wonderful, and we miss it. But even as everyday Ford trucks get faster, there's no real 2017 Lightning. So a dealer in Georgia is making its own.

Car dealerships make their own "special edition" vehicles all the time. More often then not, they're laughably lame. That does not appear to be the case with this 650-horsepower side-exit-exhaust'd single-cab monster.
Earlier this week, Pioneer Ford posted its second "Lightning Tribute" on its Facebook page to overwhelmingly positive response. Apparently the first sold before it could be listed online. And indeed, the spec sheet sounds legit.
Based on a bottom-spec 2017 F-150 XL, Pioneer Ford writes that it has augmented this humble work truck with a, "650 horsepower supercharged 5.0 v8, side exit exhaust, specially tuned suspension, and our own twist on a classic wheel, but in 22" diameter!"

G/O Media may get a commission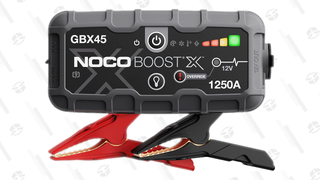 13% Off
Noco Boost X GBX75 Jump Starter
Uh, hell yeah?
The dealer's offering the vehicle with a factory warranty for $50,000. It seems to be, pretty much, Ford's leanest work truck with go-fast bits from the Roush Nightmare. That was pretty much the closest thing to a "modern-day Ford Lightning" that existed until this week.
Since Roush is officially affiliated with Ford, dealers can offer the aftermarket company's products on vehicles and generally roll them into a standard financing package and factory warranty.
As Pioneer Ford said in a Facebook comment: "Yes, we built this in house at our dealership. Being a [Roush] authorized dealer the vehicle still retains factory warranty and the charger has a warranty on it as well. Option to extend the warranty is also available! Truck also qualifies for all of Ford's factory incentives and rebates!"
I love how true of a tribute to the original Lightning this is. The single cab configuration, rear-wheel drive, basic grey cloth interior, side-exit exhaust, classically styled wheels... it's all there. Even the Lightning badging looks right on the 2017 body.

Honestly, I think this would have been decent with a 3.5 EcoBoost or just an exhaust'd V8. (Have you driven a modern Ford pickup in its lightest spec? The things haul ass when they're not hauling work.) But the supercharger and silly output number are what really make this worthy of the Lightning name.
The only way I can imagine this truck driving is "hilariously." If you buy it, you might as well carry a couple extra tires in the bed at all times because you're going to be laying rubber everywhere you go.

I'm not totally sure how I feel about the "SVT" badging on the tailgate, though. For some reason that feels a little forced even if the "Lightning" stickers are OK. I mean, it's not really an SVT product after all. Maybe swap that with a Roush badge for legitimacy? I reached out to Ford's communications team to ask what they thought about this and will update when I hear back. I asked the dealership for some exhaust clips too, by the way.
Otherwise this truck is amazing and I applaud this dealer's creativity. What a brilliant way to turn a minimally-profitable work truck nobody wants into an incredible advertisement and a sweet product in its own right.
If you want one, I have a feeling things like this will start popping up at more Ford stores once other dealers realize how much publicity this semi-official F-150 Lightning is pulling in.