Good Morning! Welcome to The Morning Shift, your roundup of the auto news you crave, all in one place every weekday morning. Here are the important stories you need to know.
1st Gear: Party In Detroit
Though it lacked a truly signature mind-blowing debut like the Ford GT last year, 2016's Detroit Auto Show was an unqualified success in terms of attendance. Even President Obama stopped by last week.
Chalk it up to a glut of new products from every automaker, signs that indicate strong sales will continue in 2016, a "mild" winter by Michigan standards (I froze my Texan ass off up there but good for you guys, I guess) and a recovering economy, says The Detroit Free Press:
Thousands of families and auto enthusiasts made this year's auto show one of the most successful yet, according to Max Muncey, spokesman for the Detroit Auto Dealers Association. Muncey said attendance was up for this year's show: Sunday's 104,263 attendees brought the total ticketed attendance to 815,575 edging out last year's total of 808,775, according to Muncey.
"I think the mild winter led to more people venturing downtown," Muncey said. "We're up this year. We're trending to finish above last year, which brought in just over 808,000."

The Detroit Auto Dealers Association, which produces the event, said this year's auto show is expected to have a more than $425-million economic impact on metro Detroit when all is said and done — up from $400 million in 2015. Attendance at the show has been building in recent years after it dipped during the Great Recession.
G/O Media may get a commission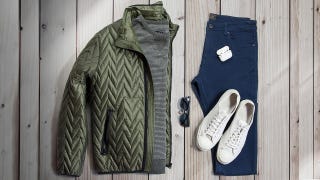 60% off
Jachs NY Fall Sale 60% Off
2nd Gear: Why Is Ford's Stock Price Sinking?
It would seem Wall Street has a lot more faith in Silicon Valley than Detroit. (Or Dearborn, in this case.) Automotive News reports Ford's stock prices keep falling despite growing profits:
Last week Ford shares fell to their lowest closing price in more than three years. They've dropped 19 percent since January 2015, when CEO Mark Fields launched his signature initiative, Ford Smart Mobility, a plan to take the 112-year-old manufacturer into the realm of transportation services. After Ford said it would reward shareholders with a $1 billion special dividend, shares fell 5 percent the next day.

One analyst, Adam Jonas of Morgan Stanley, went so far as to compare Ford's talk of "huge opportunity" in a world of shared and self-driving vehicles to bullishness from Kodak, Blockbuster and other companies that crashed when new technology left them behind. Automakers are facing potential competition from businesses they have never had to be concerned with until now.

"I can't spin that positively," Jonas said this month at the Automotive News World Congress. "The stock market's like 'Hey, we've seen this before. This industry is incredibly ripe for disruption. The disruption's probably not going to come from the 100-year-old mechanical legacy.'"
Also, this:
Harry Wilson, a former member of the Obama administration's auto task force, agrees.

"I think the market fundamentally misunderstands how different these businesses are than they were pre-crisis," Wilson said at the Automotive News World Congress.
Ford has been talking about mobility and new approaches to transit more than any other American automaker (though GM is catching up with the Lyft investment and now Maven.) When you look at the concerns from Wall Street, some of these moves really start to make sense.
3rd Gear: Ford Exits Japan And Indonesia
Speaking of Ford, seeing "no reasonable path to profitability," the automaker announced it will exit the Japanese and Indonesian markets entirely this year. Ford has been in Japan since 1974 but has long struggled to compete with Japan's domestic automakers. Via Reuters:
"In Indonesia, without local manufacturing ... there's just really no way that automakers can compete in that market, and we do not have local manufacturing," said a Ford spokeswoman based in Shanghai, confirming the content of the email.

The company has also had a tough time selling its Fiestas, Mustangs and Explorers in the Japanese market, which is dominated by Toyota Motor Corp (7203.T), Honda Motor Co (7267.T), Nissan Motor Co (7201.T) and other domestic brands.

On top of that, vehicle sales have been falling in Japan as the population ages and demand for cars by young people decreases.
4th Gear: Hey Teens, Use Maven
Speaking of mobility and GM's Maven service, the company's aiming big at college kids with it. Clever. From Automotive News:
GM is the latest automaker to put down stakes in the college market, which analysts say provides automakers the chance to build brand awareness among younger customers who might not otherwise consider buying a vehicle, and to cement their own role as partners in an emerging mode of transportation.

Other automakers with a car-sharing presence on college campuses include Nissan, which in August entered an agreement with Enterprise Rent-A-Car to provide Nissan vehicles at about 90 U.S. colleges for $5-an-hour rentals. GM and Nissan compete with popular car-sharing service Zipcar, which operates on about 500 campuses nationwide.

Ford, which launched a pilot car-sharing program last year in six U.S. cities and London, provided 1,000 vehicles to Zipcar for use on college campuses in 2011 and renewed the partnership in 2014.
GM expects 25 million people to be using ride-sharing services by 2020, about five times what it is now.
5th Gear: One Down, Hundreds To Go
GM's first ignition switch lawsuit may have been dropped by the plaintiff amid bizarre fraud allegations, but there are a lot more out there. The next one was selected by GM and is likely to go their way. Here's some details on the third case from Bloomberg:
Victor Pribanic, a lawyer for the family of James Yingling, a 35-year-old man who died 17 days after his 2006 Saturn Ion crashed in Pennsylvania in November 2013, has the third case, set for trial in May in federal court in New York. Pribanic said it's rare for clients to lie in court.

"I've been doing this for years, and I can count on one hand the number of people who would come into court and tell a fib," he said.

Yingling, a laborer who was opening up a used car lot at the time of his death, crashed into a culvert and a bank. The lawsuit claims the ignition switch failed, cutting off power, causing Yingling to lose control of the Saturn. His air bags didn't deploy, Pribanic said.
Reverse: RIP
Neutral: How Does Ford Get Love From Wall Street?
It seems automakers are having trouble convincing the finance titans that they've changed since the Carpocalypse of the late 2000s.
Photo credit Getty Images
---
Contact the author at patrick@jalopnik.com.