By "WIN!" we don't mean "won the race," because the Police Brutality T-Bird managed only two laps at the Capitol Offense LeMons race. No, we mean that swapping a ghetto-carbed M70 V12 into a Thunderbird is the best idea ever!
The BMW 750iL may be the all-time King Of Automotive Depreciation; you can get a runner with a few dents and/or trashed interior for well under a grand, then part it out and keep that big V12 and transmission. After Speedycop and his Police Brutality team thrashed for, like, 800 consecutive hours and got their '63 Thunderbird to drive a handful of laps at the Detroit race, they figured a V12 swap would fix everything! Out with the fried Ford 390, in with the BMW M70!


G/O Media may get a commission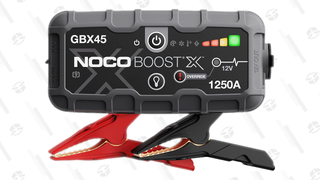 13% Off
Noco Boost X GBX75 Jump Starter
The dual-ECM computer system on the M70 is so incredibly complicated and finicky that nobody— not even the engineers that conjured up that nightmarish setup— can figure it out. The solution? Replace the entire fuel-injection system with a Holley perched on a steel ammo can, and rig up a couple of random six-cylinder distributors (one per cylinder bank). Hooray! Along the way, the water pump, a distributor, and a couple hundred other things broke, but that's nothing that another 500 hours of non-stop wrenching can't fix, eh?


Unfortunately, the 750iL's transmission also has a super-complicated computer, and it responded to the garbled signals it was receiving from the decapitated engine ECMs and screamed "NEIN!" The upshot: two (almost) laps with the transmission in limp mode, before the whole mess went KABOOM! Still, the Police Brutality guys should be considered heroes, and we're sure they'll get all this stuff sorted out for the next race.


Meanwhile, their Lincoln Mark VIII, complete with DOHC 4.6 and 5-speed transmission (shown here at the Southern Discomfort LeMons), knocked out the quickest lap time at the Capitol Offense race. That's the second or maybe third time this car has been the quickest thing on the track. Here's what Speedycop himself has to say about his team's experience at the Capitol Offense 24 Hours of LeMons, courtesy of the 24 Hours of LeMons Forums:
Technically, the carb adapter was bolted to the lid of the ammo can with a proper gasket. As the lid wasn't rigid enough, it flexed and blew out the gasket. Because I had welded the lid onto the cut-down ammo can bottom, I couldn't replace the gasket, hence all the JB weld. Hey, it worked!

I think I need another transmission. During my glorious, smoky, overheating two laps, it slipped in and out of drive. With no computer controls, there was no 1st or 2nd, just the default third gear. While we proved that was enough at Gingerman, having the lower hose pop off the Mezeire universal electric water pump we needed to replace the stock unobtainium V12 pump was simply the icing on our shite cake for the weekend. Nothing like a 14 hour run to northeast Ohio by Ronman in my Super Duty to pick up a universal pump from Summit Racing almost 5 hours after their closing time! Fortunately, an employee thought our BMW V12-powered 1963 Thunderbird and our Komen fundraising efforts were pretty cool, after looking up www.speedycop.com, and worked it out to meet us there in the wee hours. Too bad they didn't have anything bigger than a 3/4" hose adapter for the 12AN o-ring holes in the pump, and yet Mezeire tells you to place it in the (2") lower radiator hose. Our alternating layers of duct tape and assorted hose pieces failed after ONE LAP, despite being double-clamped.

We didn't have any luck with the Mark VIII, either, despite a flawless performance for 24 hours straight at VIR, where we would have been on the podium if not for horrible pit times. Friday night, I had to touch up a few cage welds to satisfy the tech inspectors, despite the car being unchanged for 6 races. As I had to weld the driver's side dash bar (above the computer), I made sure there was no residual smoldering when I was done (or so I thought). About 15 minutes later, somebody yelled to us: "Hey, your car's on fire!"

Sure enough, the harness for the whole car was burning, and the computer was red hot and scorched. I used the extinguisher to get it out, and once it cooled, we started it up. It seemed fine, and a quick visual inspection revealed only scorching and melted tape on the harness. Cool, disaster averted! Next morning, I started it to begin the race, and it ran horribly. Knowing it wasn't driveable, I wiggled under the dash to inspect the harness more closely. What I found was a melted mess almost a foot long, with maybe 25 wires with the shielding burned completely off. Several sweaty hours later, we were running better, though still rough. We decided to go ahead and get some laps. I posted a 1:57, the fastest lap of the day Saturday. Then the clutch cable failed.

I used Quick Steel epoxy to reinforce the collapsed section of the cable, and tightened it all the way. It held for the rest of the day, but the car started running worse, so we parked it. Messing with it at the end of the day Saturday, we found that the #6 cylinder wasn't getting spark. As it is a wasted spark system (two plug wires per coil, both fire at once, one spark occurs on the exhaust stroke and therefore is wasted), and the other cylinder on the coil was getting a strong spark, it had to be a plug or wire, right? Wrong. Changed them both, with no luck. HUH? Turns out the coils have a wire inside that connects both plug wire connections, and that wire can break. Guess where the spare coil was? In my Super Duty, on it's way to Ohio for the pump. ARRGH!

The rusty Cougar guys loaned us one off their spare motor, and it fixed the problem. Cousin Dave (AKA CaddyWrecker) went back out for a couple more laps before racing ended at 8pm, and came back in with a big grin on his face, so I knew it was fixed. Sunday at the start of the race, I went out for about ten laps, to try and post the fastest lap of the day again, and I did so with a 1:55.113! Thanks to our newly welded rear and light rear end, I was the drift king on the track. Too bad the traffic was heavy, and the clutch cable failed again, or I could have gone even faster!

Overall, a frustrating, horribly expensive, LOOOOONG, tiring, hot weekend. Fun? Yes, of course. Well, at times. When we went to leave, we found both right side trailer tires were rubbing, due to newly bent 3500 lb. axles. Who puts axles that light on a 24' enclosed race car hauler anyway? We had to put the Mark VIII on the open trailer that was going to haul the remains of my '97 Intrepid "People's Curse Scapegoat Car" back home. So much for that $200 worth of scrap. I had to leave it behind. We had an awesome time Saturday night, though, playing beer pong, and riding my Honda 400EX on two wheels with my wife on the back, and Dave being pulled 30' behind in the wagon. We also had an awesome time late Sunday night in DC with some fellow LeMons peeps. I usually get tired of playing tour guide for friends and family, as I work in downtown DC every day, but this time it was really fun. Thanks again for dinner!

I'm itching to do Stafford, but we just can't afford it right now. Too bad, I think the Lincoln would do really well there...
Photographs by Nick Pon
[gallery 5578873]