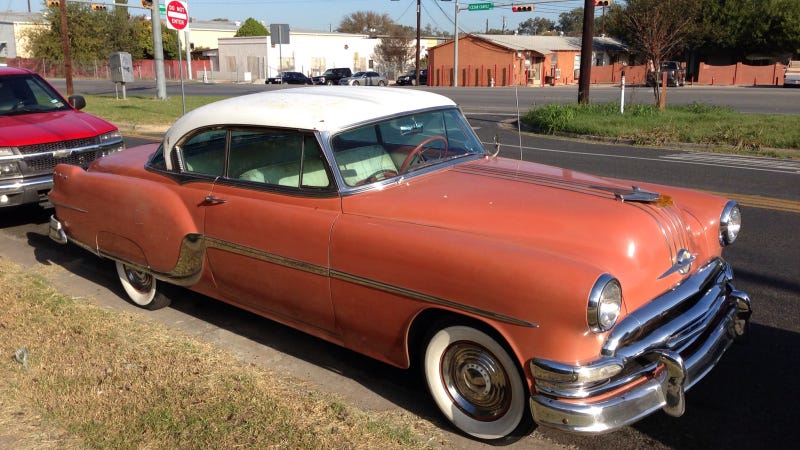 Welcome to Found Around Town, where we feature cars we find in a city where interesting ones are rare because everyone drives a Prius or rides a bicycle: Austin, Texas.
Was I reaching too much with the pun in that headline? Oh well. I ran into this 1954 Pontiac coupe on the east side where it was owned by a gentleman working at the delightfully-named Deathtrap Motorcycles, a shop that restores and repairs old Norton and Triumph bikes. I told him he has good taste in cars and bikes.
As I've said many times before on Found Around Town, I love American cars from the 1950s. They're packed with so much style and excitement and color and optimism. This is a car from back when cars weren't simply appliances.
The Pontiac has so many classic styling cues from that era. First of all, I love that it's pink. The white roof looks awesome, as does that ornate chrome grille and the whitewall tires. Check out the silver streaks and the ornament on the hood, too. But my favorite feature has to be those bulging rear fender flares that cover the rear tire — come on, how cool is that?
Check out the photos in the gallery, then tell us — what are your favorite rides from this era?