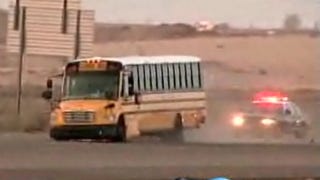 A man in an stolen School Bus lead Police on a probably not very high speed chase down Interstate 40 in New Mexico yesterday. After receiving calls of a school bus driving erratically early yesterday morning police in Grants, NM tracked down the offending vehicle around 6am.
When the driver of the Bus, 27 year old Nathaniel Shipman, refused to stop they began one of the more bizarre police chases we've ever heard of. As soon as Shipman got on Interstate 40, NM State Police joined the pursuit. After two rounds of spike strips and some contact with a cruiser, Police officers were finally successful in bringing the School Bus to a stop.
According to local news station KOAT 7, the School Bus had been stolen on Thursday night in Albuquerque. The Bus Company didn't realize it was missing because "another bus was stuck in a ditch" and "They thought the bus in the ditch was the only attempted theft." Who knew School Buses were such a hot target for New Mexican thieves?
Thankfully no innocent bystanders were injured during Shipman's highway rampage, but the same cannot be said for the suspected bus thief. After repeatedly ignoring police commands Shipman was shot by a Sherrif's Deputy three times. He was then taken to the University of New Mexico Medical Hospital where his current condition is unknown.
This was hardly Shipman's first brush with crime. He has been arrested several times in the past few years for serious crimes as well as the significantly more humorous accusations of "fighting with a mailbox in a stranger's yard, hitting a vehicle and making snow angels in the gravel".
Hat tip to Ex. President Mack Totally Board 41!