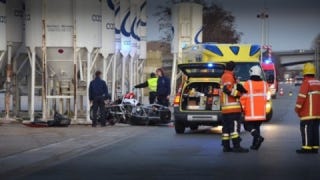 Belgian automotive journalist Michael Cornette was killed in a test drive of the Ariel Atom — a street-legal track car — yesterday. The 35-year-old writer for the newspaper Krant Van West-Vlaanderen was killed when the sports car lost control and crashed into a silo.
The accident happened near Kortrijk, Belgium around 3:30 pm local time on Monday. Cornette was in the passenger seat reviewing the Ariel Atom 3 — essentially a race car for the street with no doors or roof — when the driver of the vehicle lost control and slammed into a silo. Cornette died on the scene. The car's 30-year-old owner, who was driving, is in serious condition and under a medically-induced coma.
A local prosecutor blamed the accident on "inappropriate speed" and wet weather.
Though fatal accidents involving automotive journalists are rare they do happen. For example, in 2007 a French journalist died on an Opel press trip.
Cornette leaves behind a wife and a two-year-old son.
Photo Credit: Autoblog.nl