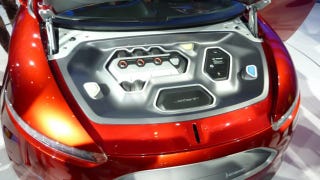 With the world's demand for fuel efficient engines only growing, Ford said today it would soon build a 1-liter, three-cylinder version of its EcoBoost engine for small cars around the world, including the United States.
The whole EcoBoost idea — build smaller engines that get better fuel economy but maintain the power of their larger ancestors with turbocharging and direct fuel injection — has been a winner so far for Ford, with 180,000 EcoBoost-powered vehicles in North America to date. Derrick Kuzak, head of Ford's global vehicle development, says 90% of Ford's lineup will have an Ecoboost option by 2013.
The 1-liter, 3-cylinder was first shown in the Ford Start concept in China last year. Ford said it expects the 1-liter to make the same power and torque as the 1.6-liter four-cylinder engine in the Ford Fiesta, which makes 120 hp today. Kuzak also said Ford would soon launch a new 8-speed automatic transmission and a continually variable transmission for its hybrids.