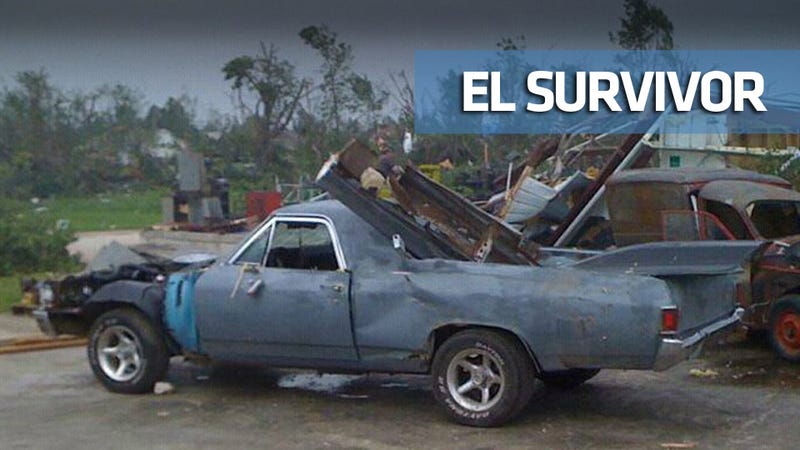 The recovery from the massive tornado that struck Joplin last week remains a work in progress, and families are still mourning more than 120 victims. Here's a small good-news story about an El Camino that survived when it shouldn't have.
Scottie Hackleman bought his 1972 Chevy El Camino when he was 15 for $1,500 he saved working construction. In the decade since, he'd not only held on to it but given it upgrades, rebuilding a 331 cubic-inch V8 up to 500 hp twice and keeping the El Camino in the garage while his Jeep Wrangler took the rain outside his home in Joplin.
Earlier this spring, Hackleman decided to give the Elky a proper restoration, handing the keys to a local body shop not far from his house in March. That's where he was home when the storm moved through the town, decimating the neighborhood a block away and luckily only damaging one wall of his house — from what Hackelman can only guess was an airborne refrigerator.
But the body shop was in the city's business district, and took a direct hit from the storm. The building was blown down, and several vehicles were hurtled through the air and turned to scrap. The Elky lost its windshield and windows, suffered dents in most of its body panels and damage to the front end that had been taken off for repainting. But it didn't move an inch. Says Hackleman:
We had just pulled the fenders off, and had got them hand filled and filed (weld and new metal only, none of that Bondo shit). I haven't seen them, but I am guessing they are a total loss. They are in the back of the truck, but I don't think they are baby's-ass smooth anymore. The hood didn't blow away and just has a few scratches.
Hackleman says when things return to normal, he'll just stick to the original plan: "This is just a setback, but I will rebuild her," he told Jalopnik. "It may just take a little longer now."
That's the spirit. We can always get behind an El Camino comeback.
Photos: Scottie Hackleman