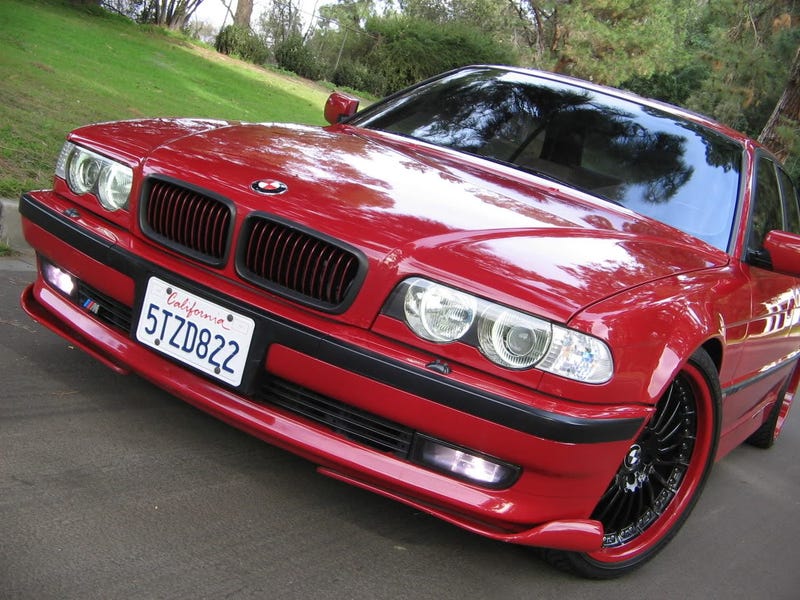 When the Bangle-ized E65 7-series was released, the values of the preceding E38s immediately rose. Things have obviously settled down as this Nice Price or Crack Pipe contender 740i has a price that's styled for mass appeal.
John Kerry blamed his unsuccessful run at the White House, not on his being an elitist snob, but on a series of accusations made by a group calling themselves Swiftboaters for Truth. Like most things in politics, it remains up in the air as to whether their assertions were accurate, but it entered a new phrase into the lexicon — that of being Swiftboated. Well, there was no way you all were going to get swiftboated by yesterday's Suzuki, and in a Kerry-esque loss, the combined factors of mileage and price condemned the little GT to a 73% Crack pipe defeat.
Its future political fortunes not withstanding, it's accurate to say that Suzuki campaigned at the bottom end of the performance/luxury spectrum, rocking only 100-hp and a bare minimum of creature comforts. But just a year following that particular car's birth saw the introduction of a car at the opposite end of that gamut, the BMW E38 7-series.
This Imola red (a lipstick shade that owners of male dogs will recognize immediately) 2001 740i M-Sport kicks it with the 282-bhp 4.4 V8. That's 40 fewer horses than the 5.4-litre V12, but the eight produces much less wear on the gas gauge. The twelve was also only available in the 121-inch, long-wheelbase iL model, which could also be had in the 740. This car however is the 115-inch, standard wheelbase car. Despite that the back seat is cavernous.
And getting into that back seat reveals the first of numerous M-badges littering this car. There's one on each sill, as well as the pedal covers and another on the lower spoke of the steering wheel. About that wheel; if you've ever seen the movie The Rocky Horror Picture Show you probably remember the lurid red lips set against a black background that also served as the one-sheet image. Well, this bimmer gets the Rocky Horror Steering Wheel, and the red and black tiller looks pretty jarring against the staid elegance of the remainder of the biscuit-colored interior. Up above your backward-facing cap there's a custom headliner made from alcantara, a material which appears to have also been inexplicably used in covering the horizontal band of wood trim in the car.
As you would imagine, this 740i has every bell and whistle 2001 BMW could think of, and there's a few more that have been thrown in for good measure. Popping the trunk finds not the meme-evoking dead hookers, but instead plexiglass windows in both the back and the floor, showing off the amps and kickers that have been installed there. There's still room for a couple of expired escorts however, but no word on the displaced spare tire.
Outside, the stock rims have been replaced with a pricy set of 20" douchebagattis two-piece black and red painted rims, although they look a little beat to hell close up. Wheels are always a matter of personal taste, and these have none. Up front, there's another M badge hiding down in the valance, and in the back there's only the rondel for identifying purposes, but it's been hit with the same red paint as the wheels. Go figure. The H&R springs lower the car, giving it an aggressive stance, but they probably conspire with the 35-series Falken FK 451s to make the ride a roid-rager.
The sole transmission offered in the M-Sport is the ZF five speed automatic with Steptronic auto-manual mode. That's a pretty good box, and while you can lament the car only having two pedals to tickle with your Gucci loafers, where are you going to find a car like this that lets you row your own? Yeah, I know, Germany. Write us when you get back. That auto box and the 4.4-litre V8 move the 740i's nearly two tons with almost effortless ease, and sixty could be yours at the cost of only 6 seconds of your time. Top speed is artificially limited to 129 miles per hour.
But at the 129, you'd have an almost equal number of M-badges to view in this 7-series. And not only that, but the rims and sound system upgrades (IPONE, FTW!) will make you some kind of king on cruise night. All of that cost money, and that's on top of a car that cost the better part of $72,000 in 2001 dollars – you know, before everything went to shit. And while the BMW 7-series has just about the worst depreciation of any car on the planet (the Maybach supposedly is worse), it's still surprising to see it offered here for Kia money without any obvious major detriments. The seller, whose command of English and ability to locate the cap lock key seem equally tenuous, is offering this 90,000-mile car for $13,200. His claim that everything is working and straight seems credible, at least by what can be gleaned from the pictures, and these cars were pretty solid to begin with.
So, what do you think about $13,200 for a 740i with a bad case of the Ms? Is that a price that might make this your executive express? Or, does that make the seller not just all caps, but ALL CRACK?
You decide!
Los Angeles Craigslist or go here if the ad disappears.
Help me out with NPOCP. Click here to send a me a tip, and remember to include your commenter handle.