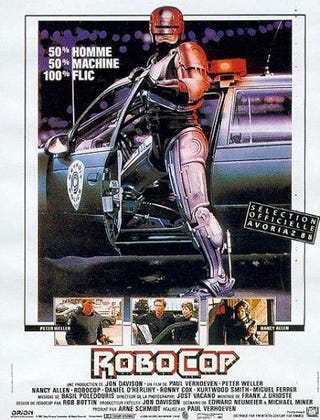 We called the Taurus-based Ford Police Intereceptor "Robocop's replacement." Buy why have the sequel when you can have the original? Be part-man, part-machine and all awesome and buy the original Robocop Ford Taurus for around $19K.
The Volo Auto Museum outside of Chicago is putting the greatest Detroit P.D. car ever to roam the streets of Dallas, Texas (where most of the externals were shot) up for auction. When the producers of Robocop wanted to look to the future they chose the most forward-looking sedan to come out of Michigan in a generation: the 1986 Ford Taurus.
For some reason the car is listed as a 1988 Taurus even though we think the film used a 1986 MY Ford. Also, there are no exterior shots of the vehicle other than ones from the movie. And while there is a fake assault rifle, we'd maybe call before we plopped down the $18,998 bid for the Robocopcar thinking we'll get any actual firearms. Otherwise, it's a steal of a deal, right?
[Hemmings]