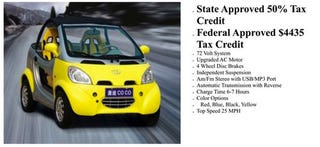 If you've got the cash, Oklahoma is practically giving away Kandi Coco plug-in electric cars. With Smart-like styling and Chinese production techniques, $895 buys you a lot of street legal electric action. How does it work?
The Kandi Coco qualifies for the government's $4,435 electric car tax credit, bringing the $10,599 car down to $6,164. Combine this with an Oklahoma resident tax credit of $5,299 and it's suddenly just $895. Sure, it only goes 25 MPH for roughly 40 miles and can only be driven on roads with a 35 MPH speed-limit, but for less than $1K what more could you ask for? Safety and reliability are a luxury for Tesla buyers.
Since this is a tax-credit you're not going to see the money until you file your taxes, so you need to be able to front some of the cash. This deal ends this year so act quickly!