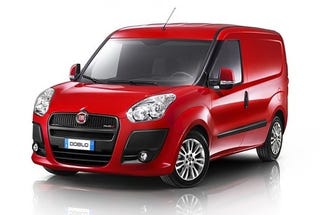 Automotive News reports the just-revealed Fiat Doblo will be sold stateside as either a seven-seater with windows or a panel van to take on the Ford Transit Connect. My name is Ram, my Doblo is full of ugly?
According to AN, it's due to join the recently re-branded Ram brand of trucks for the 2012 model year, there's no official word on which engines will make it to this country. Production will remain in Turkey, indicating we won't get a 700 HP V8 version or even the Sebring's terrible 2.4-liter that manages to produce no power, yet freakishly poor fuel economy. Instead, we'll likely get Fiat's own 95 HP gasoline engine even though we'd really rather like to have the choice between one of Fiat's passable Multijet diesel engines, which will be offered in European Doblos in 90, 105 and 135 HP forms. Please Santa, make them bring it in with a manual transmission.

In Europe, small vans like this (the Doblo is based in the Focus-rivaling Fiat Grand Punto) are workhorses for small businesses, large families and urban delivery men, pushing interior space to the limits of the vehicle's footprint to deliver lots of space inside compact proportions. That combination of utility, fuel economy and the ability to fit into a parking space has to be experienced to be believed. After driving a diesel-equipped Transit Connect around London for six months, I'll never be able to settle for the poor size-to-capacity ratio of a pickup American-style minivan ever again.
Here's the press release:
World premiere New Fiat Doblò: meet the 'family space'

Meet the new Doblò, the Fiat car that is all about space.

A space to be shared with family and friends: a liveable space for people who travel and love to be in company; for people who choose the Doblò as a partner for leisure or work.

A vehicle designed to meet a need for functionality and comfort that makes the most of interior space and can accommodate up to seven people. An authentic 'family space' that can rely on top-class safety, economy and respect for the environment.

Compared to the previous version that sold approximately one million units, the new model has been completely revamped in terms of style, engines and technical specifications. These aspects make the new Fiat Doblò the "best in class" both in terms of space and in terms of reduced emissions.
All this has been achieved through the use of a new platform, more passenger space (with a wheelbase of 2755 mm, the biggest in its segment), a roomy 790 litre luggage compartment, reduced CO2 emissions (129 g/km with the 1.3 Multijet 90 HP engine, the lowest in its category), standard safety features and highly modular interiors with seats that can be folded and tilted.

Style and comfort

The look is very cutting-edge. With a central shield and side bumpers that are perfectly integrated with the body, the front end blends protection and sophistication while the pronounced wheel arch and sloping shoulder contribute to the vehicle's strong and agile look. The tailgate's essential lines emphasise the accessibility and size of the generous load compartment; clear, sparkling light clusters and expanses of glass give the new Doblò a touch of elegance.
The interiors have also been designed to offer functionality and create attractive, welcoming environments through combination of colours, materials and trims.
Smart solutions for the best use of on-board space, such as a range of storage compartments and flexible interiors, offering up to 7 places, will satisfy the needs of those who make the Doblò a car to be enjoyed with family or friends.

Environment and economy

The Fiat Doblò will offer 4 power units at its launch: a 95 HP petrol engine and three diesel Multijet engines, 90, 105 and 135 HP, which will later be joined by a Natural Power engine with dual fuel system (petrol and methane) and an additional diesel engine with Dualogic robotized gearbox.
All units are lively and offer smooth torque delivery. They are remarkable for driving satisfaction, excellent performance, low noise levels, low operating costs (fuel consumption and maintenance) and also for their reliability and eco-friendliness.
The range is available with Euro 4 and Euro 5 versions and offers a Start&Stop device as standard, which cuts off the engine temporarily when the car is stopped to guarantee reduced fuel consumption and emissions.

Safety

To ensure optimum dynamic behaviour, comfort and active safety in all road surface and load conditions, the vehicle has been equipped with innovative mechanical features including a bi-link rear suspension system available with various component calibrations depending on vehicle application. The Doblò's consistent and predictable road-holding is also guaranteed by the use of state-of-the-art electronic devices for stability control, namely ABS with electronic brake force distribution EBD and, above all, ESP complemented by a hill-holder system that helps the driver during Hill starts and comes as standard on this model.

The vehicle has been designed and built to achieve the highest levels of passive safety, due to a body with crumple zones, front air bags and innovative front side bags. The latter offer protection for both head and chest.
The vehicle also offers technical solutions and equipment that create optimum comfort conditions and help keep attention on the road: these include an automatic climate control system with distribution to rear seats, cruise control, parking sensors, a built-in Blue&Me hands-free system and a "Blue&Me TomTom" navigator.

The Doblò Cargo, also new, is at the top of the professional vehicle category

The new Fiat Doblò is joined by the new Doblò Cargo which has been designed to take its place at the top of its category in terms of performance and functional characteristics. It offers a more roomy load compartment than the previous model: square, regular, fully exploitable and equipped with sliding side doors and generously-sized rear doors to make light work of loading and unloading operations. Record-breaking statistics (interior length up to 2.2 metres, width between wheel arches of 1.23 metres, volume from 3.4 to 4.2 cubic metres, payload from 750 to 1000 Kg, combined fuel consumption of 4.8 litres/100 km and range of 1250 Km with the 1.3 Multijet engine) ensure that the new vehicle can offer substantial benefits in terms of optimisation and reduction of running costs.
The range finds expression in 7 different body types: short and long wheelbase van, high top van, short and long wheelbase 5-seater combi; a particularly appealing and brand-new short and long drop-framed version can be easily and cheaply converted for specific trades (refrigeration chambers, fixed and tilting flatbed trucks).

The new models are due to be launched from mid-January 2010, but it will be possible to order the vehicles from the end of November in Italy and from December in other European markets.

Turin, 16 November 2009