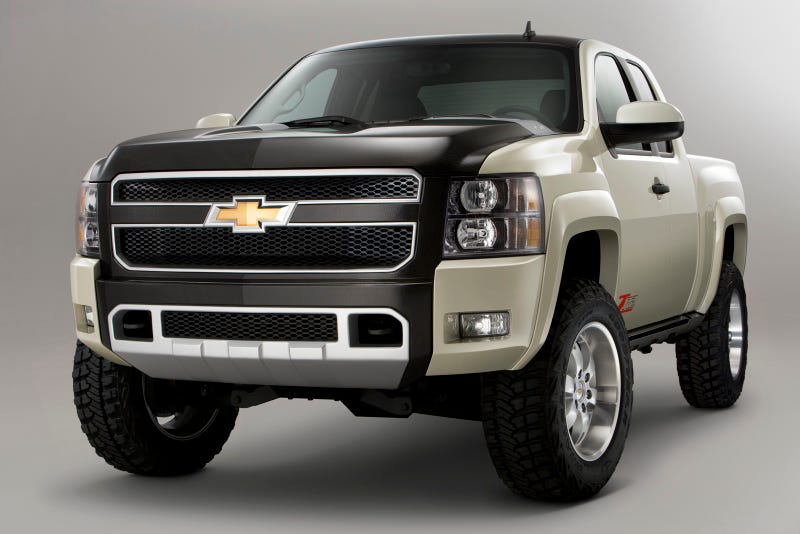 In addition to the not-a-Z28 Jay Leno Camaro concept and a slew of other mullet-mobile mock-ups, GM brought out this Chevy Silverado ZR2 concept, the bowtie brand's weak-ass attempt at a Raptor-fighter.
Don't get us wrong, it's not weak-ass in power output, rather it's weak-ass that by putting a 550 HP LS crate supercharged engine under the hood, there's not a chance in hell it'll ever be built. And that's just sad because it'd be cool as hell to see a Raptor vs. Dodge Power Wagon vs. Silverado ZR2 match-up. Ah well, a man can dream, can't he?

Full release below:
Silverado ZR2 concept
At a glance, it's clear the Silverado ZR2 concept wasn't designed to haul flowers back from the nursery. With its widened body, tall stance and powerful LS supercharged engine, it is ready to hit the berms, dry washes and gullies of the Baja Peninsula.

The Silverado ZR2 is based on an extended cab/short box body. The custom bodywork includes carbon fiber fender flares that stretch outward to cover the 35-inch-tall Goodyear Wrangler off-road tires and widened stance. Much of the truck's body is made of carbon fiber, including the front fenders, extractor-style hood, rocker extensions and tailgate, which features large, debossed CHEVROLET lettering as a nod to Chevy trucks of the past.

The pickup box, which is protected with a spray-on liner, features a unique locking storage system mounted to the extruded aluminum Cargo Management System rails from Chevy Accessories.

Many of the carbon fiber parts, including the hood, are clear-coated, rather than painted, to show off the intricate weave pattern of the high-tech, lightweight material. The parts that aren't clear carbon fiber are painted Dune Metallic, a color that blends with the desert terrain. A large, more prominent grille is also part of the package and is a vision of what designers would like to see in a production or accessory part. It is very functional, feeding cool air to the 550-horsepower LS supercharged crate engine from GM Performance Parts.

The combination of 20-inch BBS RD wheels – reminiscent of historic Chevy truck wheel – and aggressive Goodyear Wrangler MT/R tires connect to the chassis via BDS shocks and a four-inch lift kit to help negotiate those desert trails. The new front fascia dramatically improves approach angle and skid plates protect the chassis.

The interior features more carbon fiber details on the dash, along with black leather and suede-trimmed seats with contrasting stitching to those trail runs more comfortable.

"There's more to this concept than meets the eye," said Dewar. "Some of the components are being explored for possible inclusion in upcoming models."