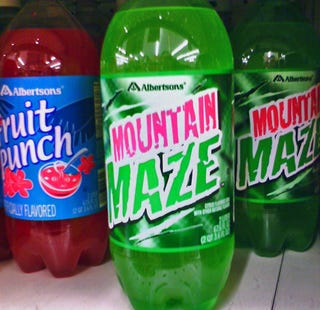 We're not completely against buying generic, store brand products. Many are on par with their brand name counterparts (not Peanut Butter though, never Peanut Butter) and a few are better (HEB Special Cereal With Berries). The best value, overall, is in store brand sodas. Not because they're necessarily as good, but because the names are awesome. The best are the Dr. Pepper and Mr. Pibb ripoffs. Who doesn't like Dr. K (Kroger), Dr. Phizz (Schnucks), Mr. Pig (Piggly Wiggly), Dr. Riffic (formerly Eckerds), and our favorite: Mr. aahh! (Giant Eagle)? We're getting tired, so we think we're going to get struck by Sam's Choice Mountain Lightning or get lost in an Albertson's Mountain Maze. In the meantime, enjoy Novaload riffing on the many names of the Kia VG.
Kia Amanti. Hey, it's Italian. No? Oh. it just sounds Italian. Y'know, like "Armani" or "Amalfi" or "Volare"—wait, it's Korean? Kia. Kinda like "Ghia" but just not. Not really.

Hey, it's a Ghia Armani, everybody!
Refreshing.
Photo Credit: Mis Amigos Locos