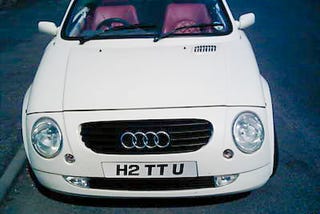 At just 1.4-liters, this apparently Daihatsu Copen-based Audi TT replica won't be challenging the Teutonic hairdresser special on performance, but it will on cuteness.
With a buy-it-now price of just $4,395, even the most thrifty drop top enthusiasts will be able to afford wind in their hair thrills. We actually think the 87 HP Daihatsu Copen is much better to drive than the first generation VW Golf Convertible TT Roadster, so maybe this isn't as ridiculous as it seems.
hi your bidding on a stunning audi tt look alike with a new mot and taxed to september.it has alloy wheels,leather seats and door pannels to match,it runs very well with no known faults,it has no dents or scratches and has a new roof which is treated,if you want to be noticed this is the car for you!it has been buit to a very high standard and comes with a personel plate with in the sale,any one lower than 5 feed back please call me on [redacted],it is a great fun car and insurance is low and does nearly 50 to gall.if you want to view car please call any inspection welcome.
eBay UK via Autoblog.nl