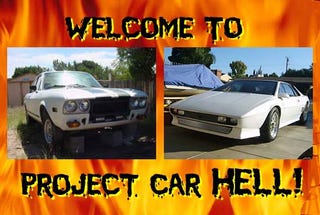 Welcome to Project Car Hell, where you choose your eternity by selecting the project that's the coolest... and the most hellish! You want an inexpensive project car that sticks to the pavement like flypaper?
That's what we've got for you today! Now, when you're talking about a couple of rare European sports cars priced low even by collapse-of-global-economy standards, you've got to count on endless a few setbacks in the decade-long interval between the project's glorious arrival in your garage and the even more glorious day of project completion (which will require belief in an afterlife). Jump right in- the bubbling sulfur is fine!

These days, just about the only Fiat you can find in North America is the 124 Spider, with maybe an occasional X1/9 here and there. Fine cars, but they're just too commonplace to make for true Hell Project material. If only you could find a genuine Fiat 124 Sport Coupe… but it's just impossible to find an affordable one. Stop the presses, Giuseppe, because here's a 1974 Fiat 124 Sport Coupe (go here if the ad disappears) with an asking price of only two grand! In fact, the seller makes it clear that he'll sell it for much less, with the statement "The wife wants it gone . . . so I'll make you a good deal!" More good news: it's in rust-free New Mexico! Sure, sure, the thin air and harsh sun in Santa Fe makes for backyard conditions similar to those on the sun-facing side of the planet Mercury, and this car has had many years to get its upholstery and wiring thoroughly baked and/or gnawed on by hantavirus-infected rodentia: "It has been sitting still for quite a few years and is currently home to a family of mice." But come on, it's got a Fiat Twin cam, 5-speed, and four-wheel disc brakes, and you know you could turn it into a little Ferrari eater!

That 124 Sport Coupe could be pretty quick, that's for sure, but nothing breaks your heart handles like a Lotus! Wouldn't you love to have a Lotus Esprit Turbo to jab red-hot pokers in your eyes play with? Of course you would, but you'd be lucky to find a clapped-out Eclat anywhere near as cheap as that Fiat. Better buy a lottery ticket, my friend, because this is obviously a jackpot day for you! Would you believe a Lotus Esprit Turbo with a three-figure high bid on eBay? Really, this turbocharged 1978 Lotus Esprit could be yours for the kind of money that normally gets you a primered-out Chevy Celebrity! It's turbocharged and everything… although some of you more skeptical types may have noticed that the engine compartment doesn't quite look the way it did when the car left the assembly line. That's because it's got a Ford 3.8 liter V6 crudely strapped down with plumber's tape installed in place of the original four-cylinder, and what appears to be a draw-through-carbureted turbocharging setup. It probably runs great, once you work out several million a few bugs, and you shouldn't be scared away by such seller statements as "car needs a lot of electrical work due to the fact that the interior is not the original one......the dash board is out of an oldsmobile." An Oldsmobile dash! And the flip-up headlights have been replaced with grille-mounted units! Totally custom! You might want to budget geological amounts of some time to undo a few mistakes, because the seller states "the previous owner had alot of good concepts for the car but his quality of work was not the best." Still, an Esprit Turbo for pocket change!