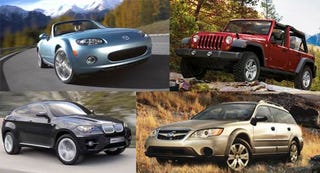 Fall's crisp winds, wet roads and bright foliage are here. But just because it's no longer summer doesn't mean you can't enjoy a weekend driving trip. Just as the leaves change so do the driving conditions, meaning it's time to trade in that soft-top convertible for something a little better suited to the autumn climate. Below is our list of ten vehicles and ten trips for a perfect fall weekend.
10.) Mazda MX-5 Miata Retractable Hardtop
There's no better way to view the fall foliage than through an open top, but the threat of a cold day means most people keep their convertibles in the garage. The Mazda MX-5 now comes with a hard-top convertible version offering all the fun of a cheap, quick car — only now with a hardtop to protect you and your occupants from the elements. MSRP: $24,465 Best Fun Feature: Zippy acceleration Best Fall Feature: Retractable hard top Best Fall Trip: Drive to a B&B at the end of a road filled with winding curves and have just as much fun driving back.
9.) Jeep Wrangler Unlimited
As much fun as a Jeep is for a weekend on the beach, traveling in the fall means packing more gear. In that case, the much larger Jeep Wrangler Unlimited is a great autumn choice. Plus, the add-on hardtop option will make life all the warmer. MSRP: $21,985 Best Fun Feature: Folding windshield and removable doors Best Fall Feature: Trail-rated 4x4 capability and an optional hardtop. Best Fall Trip: Take a rugged path for a weekend of camping and hiking.
8.) Maserati GranTurismo S
The Maserati GranTurismo S is a fast, gorgeous and luxurious grand tourer in the classic style. Despite its sports car look, the GranTurismo has ample room for a weekend's worth of gear. MSRP: $138,600 Best Fun Feature: 433-horsepower Italian V8 Best Fall Feature: Smooth, predictable ride with lots of room Best Fall Trip: Try a long drive through the wine country and have room to take home a few bottles.
7.) Volkswagen Tiguan
The new Volkswagen Tiguan CUV offers the practicality of a larger vehicle with the fun driving characteristics of a smaller car. MSRP: $23,200 Best Fun Feature: Turbocharged 2.0-liter four cylinder engine Best Fall Feature: Fold-flat rear seats Best Fall Trip: If your living space is looking a bit empty the Tiguan is an ideal companion for a weekend bouncing from antique shop to garage sale in search of that perfect armoire.
6.) Mini Cooper Clubman
The Mini Cooper has always been a fun, efficient way to get away for the weekend. Throw in an extra set of doors and a bit more room and you have the fall-ready Mini Clubman wagon. MSRP: $20,850 Best Fun Feature: Fun to drive but also efficient (37 mpg highway) Best Fall Feature: The rear doors are hinged, allowing for easy loading of large objects and luggage Best Fall Trip: Autumn is a time of harvest and what better way to enjoy that then hitting the road and visiting local farms to load the back of the Clubman up with a bounty of pumpkins and squash!
5.) Ford Ranger FX4
Before winter's frost brings snow and ice, cold fronts move through bringing chilly rains that leave muddy trails, perfect for a weekend of mudding in the off-road version of Ford's compact Ford Ranger. The FX4 is light, simple and extremely competant over challening road conditions. MSRP: $22,850 Best Fun Feature: Heavy duty schocks Best Fall Feature: Off-road ability Best Fall Trip: Tread lightly and carry a big truck through the backwoods with a friend, just make sure to bring some good boots.
4.) Mitsubishi Lancer Evolution
When it comes to bang-for-buck it is hard to top the Mitsubishi Lancer Evolution MR, which offers the space of a sedan and the road-hugging ability of an AWD sports cars. MSRP: $32,990 Best Fun Feature: Twin Clutch SST Automated Manual Transmission Best Fall Feature: Super All-Wheel Control Best Fall Trip: Nothing says a fun weekend like hitting the track or, if it is rainy, the rally stage.
3.) BMW X6
Instead of dusting off the boring old SUV for fall, consider the BMW X6 "Sports Activity Coupe" for a long weekend in the country. It's as fast as many sports cars and capable on or, as our road test editor claims, off road. MSRP: $53,275 Best Fun Feature: An athletic design that hides the hatch Best Fall Feature: Dynamic Performance Control, which keeps the Bimmer planted to any road Best Fall Trip: With Thanksgiving around the corner you've got enough room for kids and enough zoom to make you forget your Uncle Jake's prison stories.
2.) Subaru Outback 2.5XT Limited
The Subaru Legacy Outback Wagon offers poise, comfort, drivability and most importantly: space. MSRP: $31,595 Best Fun Feature: 440-watt, 9-speaker Harman/Kardon stereo Best Fall Feature: Continuous All-Wheel Drive Best Fall Trip: Football season is here and the roomy Outback will not only get you to the game, it has the room for tailgating gear. Bratwurst anyone?
1.) Porsche 911 Targa 4
A Porsche 911 is fun year-round, but the Porsche 911 Targa 4 is the perfect sports car for Fall. When the weather is nice the glass roof and hatch allow all inside a chance to see the sights. When the weather turns rough the Targa 4 comes equipped with all-wheel drive. MSRP: $89,500 Best Fun Feature: Glass roof Best Fall Feature: All-wheel-drive Best Fall Trip: Pick a sunny weekend and drive to the coast where you can marvel at the beauty through the glass.