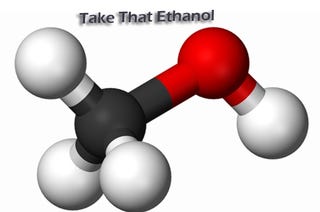 Sleeplessly cramming hour after hour for organic chemistry in college has proven to have been a complete waste of time, cause we can't understand how the newly unveiled Oorja Protonics Methanol Fuel Cell works. "Methanol you say?" Yes, the alcohol with one less carbon atom is now making news as a possible fuel of the future. Seems these new fuel cells are two to tentimes more powerful than previous methanol fuel cells, and it's only a matter of time before the Envirocrats start using "Methanol Fuel Cell" as their latest buzz word. Expect bills in Congress, concept cars, hippy rallys and pogo sticks which tout methanol fuel cells any time now. [Via Oorja Protonics]
FREMONT, Calif.—Oorja Protonics (Oorja), the San Francisco Bay Area based developer and manufacturer of ultra-powerful fuel cells, today announced its public launch and patented direct methanol fuel cell (DMFC) technology. Funded by venture capital firms Sequoia Capital and DAG Ventures, and led by fuel cell pioneer Sanjiv Malhotra, Oorja has been operating in stealth mode since 2005 and has been engaged in commercial testing and deployments of its technology through pilot programs with leading Fortune 50 customers.

Oorja's direct methanol fuel cells are novel in that they eliminate the barriers associated with hydrogen fuel cell adoption, namely the high price of compressed hydrogen gas, lack of hydrogen supply infrastructure, and hydrogen's inherent volatility as a fuel source. Methanol is a much better alternative to hydrogen fuel cells due to its low cost, ready availability, and greatly reduced volatility.

Oorja has been able to produce a reliable, affordable, and compact fuel cell that is ten to one hundred times more powerful than existing methanol fuel cells. Developed and designed as a self contained retrofit for material handling vehicles like pallet loaders, tuggers, and automated guided vehicles, Oorja's fuel cells serve as an on-board battery charger that continuously charges the batteries of these vehicles while they operate. Oorja is currently on its fifth generation of fuel cell technology and has been in development and in field evaluation since early 2005.

Founded by Sanjiv Malhotra, PhD, Oorja is poised to capture significant market share from the entrenched power technologies in the material handling industry, namely off-board battery charging with swapping and compressed gas. For more than ten years Dr. Malhotra has been at the forefront of commercial development of alternative power generation and storage technologies. Early in his career as a researcher at Lawrence Berkeley National Laboratories in Berkeley California, he worked on pioneering developments with Zinc-Air batteries. In addition to his technical skills, he went on to take H-Power, a leading fuel cell company, public in August of 2000 and was also a senior executive at another prominent fuel cell company DCH Technologies. Before founding Oorja he was a consultant with Kleiner Perkins Caufield & Byers where he assisted its venture partners with due diligence for energy related investment opportunities.

"Large distribution centers and manufacturing facilities can create substantial savings and improve productivity by using the OorjaPac™" said Sanjiv Malhotra, CEO and founder of Oorja. "The materials handling industry is an early adopter of technologies that later gain traction in mainstream consumer markets. For example, regenerative braking systems have been in use in the material handling industry for a number of years and have relatively recently begun finding their way into hybrid automobiles like the Toyota Prius. We are confident that Oorja's innovative on board charging technology represents a bold step forward and its adoption in the material handling industry is a key predictor of the role methanol fuel cell technology will play in other markets."

Oorja is funded by Sequoia Capital and DAG Ventures, and is representative of Sequoia's leadership in funding Bay Area cleantech ventures. Oorja's Board of Directors includes industry leaders in the technology and manufacturing space including:

* Pierre Lamond, Venture Capitalist at Sequoia Capital
* Gary Convis, Chairman of Toyota Motor Manufacturing, Kentucky, Inc. and former Executive Vice President of New United Motor Manufacturing
* John Cadeddu, Venture Capitalist at DAG Ventures
* Sean McKenna, Managing Partner at McKenna Management
* William Meehan, Senior Director of McKinsey and Company, Inc.
* Sanjiv Malhotra, Founder and CEO of Oorja Protonics

Additional information on Oorja can be found at http://www.oorjaprotonics.com/

About Oorja Protonics

Oorja designs, develops, and manufacturers the most powerful direct methanol fuel cells (DMFC) in the world. In development for three years and on its fifth generation of technology, Oorja's products are customer proven, reliable, affordable, and available today. Oorja's customers include Fortune 50 OEMs, retailers, automotive manufacturers, logistics providers, and food processing companies. Founded in 2005, Oorja is a privately held company and is backed by venture capital firms Sequoia Capital and DAG Ventures.