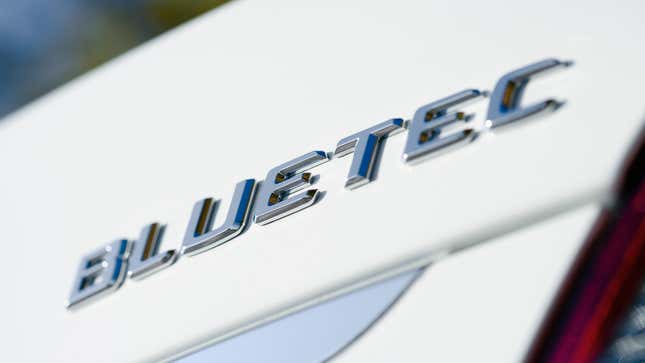 When you're caught cheating diesel emissions testing, the punishment's never one-and-done. There's usually a federal civil case, suits lodged in states, perhaps even criminal charges and, inevitably, scores of class-action challenges. Mercedes-Benz was already fined $1.5 billion by the U.S. Environmental Protection Agency, the U.S. Department of Justice and the California Air Resources Board as a consequence of its emissions chicanery in 2020, and now the automaker is facing a group of 336,000 owners in the United Kingdom demanding their own compensation.

British law firms are currently working to link claims that could cover a much larger consumer group than the 90,000 Volkswagen owners that received a combined 193 million pounds ($234.5 million) in a May settlement. The accusations are pretty standard, with one of the lawyers representing the owner group writing that alleged "affected vehicles would pass regulatory testing but that the devices would 'turn down or, in some cases, turn off' nitrous oxide (NOx) emissions control systems when driven in 'normal' conditions," per The Independent.
[Oliver Campbell KC, representing the car owners] said that under EU rules "the use of defeat devices that reduce the effectiveness of emissions control systems is generally prohibited" and Mercedes allegedly knew that, during normal use, their effect was to "produce far higher amounts of NOx than was permitted".


He added that Mercedes was allegedly aware the devices "were unlawful and that they could not be justified by the need to protect components of the engine".

The lawyer said Mercedes was accused of being involved in an "unlawful cartel" linked to the use of its AdBlue technology and faced claims of "deceit" and that it had breached emissions regulations and competition law.
Mercedes' defense evidently seeks to distance the automaker's actions from those of Volkswagen, stating that the company will prove "no reduction of effectiveness" in the various emissions control systems across its range, and that no such defeat software capable of recognizing testing scenarios exists.
Helen Davies KC, representing Mercedes, said in written submissions that it "denied entirely" liability over the alleged inclusion of "defeat devices" in its vehicles.

She said there were "crucial differences" between the cases against it and the Volkswagen litigation and that "significant care" was needed when referring to it.

The barrister said "emissions control is complex" and that there was "significant variation in the hardware, software and calibration of parameters" of the "very wide range" of vehicles involved in the claims against it.
According to The Independent, legal counsel for the owners have said this "will be the largest consumer group action before the English courts." That really depends on whether Mastercard can find a way to weasel out of its ongoing 10 billion pound case covering some 46 million British adults, who would all stand to be compensated 300 pounds each should they be successful. Hell, Mercedes might even be able to get away with this without technically admitting to any wrongdoing. Don't fret; it could be so much worse.