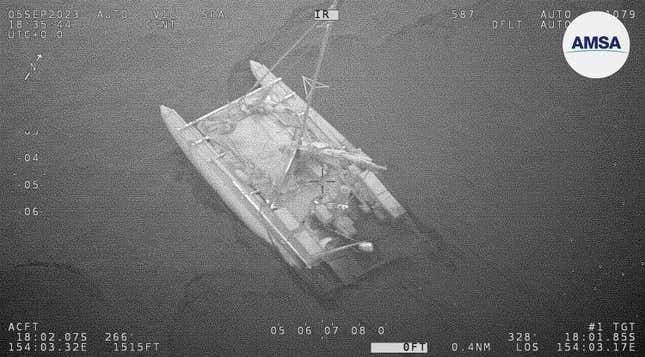 Three sailors were rescued off the coast of Australia after repeated shark attacks sank their nine meter (30-foot) catamaran. On Monday morning, the sailors sent out a distress signal, and the Australian Maritime Safety Authority managed to coordinate a rescue of the crew with the assistance of a vehicle carrier that happened to be nearby at the time of the attack that sank the catamaran.

The sailors say that sharks had already assailed their vessel, the Tion, along their round-the-world expedition, but repairs allowed the catamaran to keep going. The Tion was bound for Cairns after having departed from Vanuatu, according to the Independent. And the catamaran was 835 kilometers (519 miles) southeast of Cairns in the Coral sea when the crew was rescued at 1:30 a.m. All three sailors made it safely onto the Panama-flagged vehicle carrier, the Dugong Ace, but the Tion was reportedly left behind to sink.
By the sailors' own account, a school of sharks attacked the Tion, damaging the catamaran's inflatable hulls past the point of repair. The sailors tell 7 News that there may have been over 30 sharks in the water, though the species of shark and their size remains unclear. The shark attack was enough to sink the Tion once for all, as the sharks bit into the balloons on either side of the catamaran.
The balloons were unable to keep the vessel safely above the shark-infested waters; the sailors say sharks were jumping out of the water and biting chunks off the inflatable hulls. The sailors believe the sharks mistook the Tion for a whale — given that the ship's route followed the migratory patterns of whales the sharks prey upon. The sailors add that while they were prepared for the possibility of punctures, they weren't expecting sharks to attack the Tion repeatedly and in such high numbers.
The catamaran had reportedly suffered shark attacks off the coast of Tahiti in June, but the sailors managed to patch her up and keep her afloat. The Tion is the second vessel ferrying the crew on their attempt to sail around the world, having first embarked on the journey aboard a trimaran on July 1, 2021.
The crew, comprising two Russian and one French sailor, were trying to set a record for "the longest cruising distance covered on a frame-inflatable sailing trimaran," but they abandoned their original vessel off the coast of Chile in March, as the Independent reports. The Tion was their replacement craft, but it's both unclear and unlikely that it will be recovered.