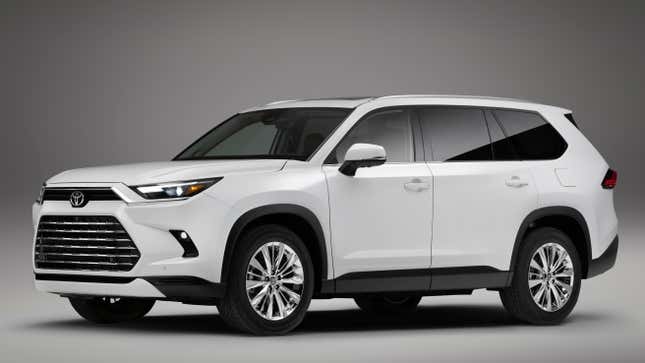 We've known Toyota had plans to add a larger version of its three-row Highlander crossover to the lineup for a while now. After all, Toyota wasn't exactly quiet about the fact that the Grand Highlander was on its way. And now the 2024 Toyota Grand Highlander is finally here.
The New Prius Looks Way Better Than it Needed To
Slotting between the Highlander and the Sequoia (and arguably overlapping with the Sienna), the 2024 Grand Highlander doesn't exactly break any new ground with its styling. Its design is basically what you'd expect from a bigger Toyota crossover, although it's a bit boxier and more conservative than its smaller sibling. That's not necessarily a bad thing, though. Overall, the Grand Highlander looks pretty good.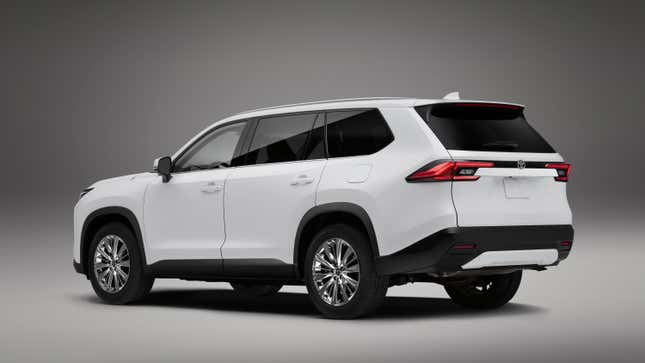 But with vehicles like the Grand Highlander, it's less about how the outside looks and more about the interior. And if there's one thing Toyota wants you to know about the Grand Highlander, it's that there's a lot of interior space. The Japanese automaker even recently shared a press release focused solely on the fact that the third row should be big enough to comfortably fit full-grown adults while still having room for seven pieces of luggage in the back.
Up front, the cabin is dominated by a 12.3-inch center screen that supports Apple CarPlay and Android Auto. It also offers a ton of storage, as well as a wireless charger, three USB ports, and three cupholders. Oh, and the covered storage area between the seats is said to be big enough to hold a tablet. Second-row passengers get their own climate controls, multiple cupholders, a place to put their phones, and a number of other storage options. It's a similar story in the third row, although those passengers don't get climate controls.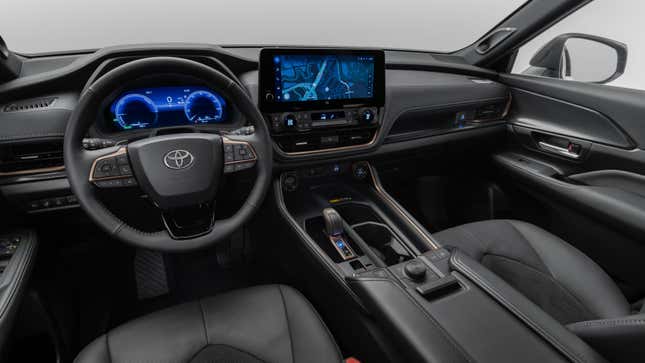 In total, Toyota says the Grand Highlander has seven USB-C ports and 13 cupholders. That may sound like a lot of cupholders, but it's child's play compared to the 19 cupholders Subaru packed into the Ascent. Also, with the second and third rows folded down, the Grand Highlander offers about 98 cubic feet of cargo capacity.
Under the hood, Toyota offers three powertrain options — a 2.4-liter turbocharged gas engine, a 2.5-liter hybrid powertrain, and a more powerful hybrid powertrain that it calls Hybrid Max. Essentially borrowed from the Toyota Crown, the Hybrid Max system makes a claimed 362 hp and 400 lb-ft of torque. That's enough to give the Hybrid Max-powered Grand Highlander a zero-to-60 mph time of 6.3 seconds and a 5,000-lb towing capacity. And while the other two powertrains can be ordered in front-wheel or all-wheel drive, the Hybrid Max is only offered with all-wheel drive.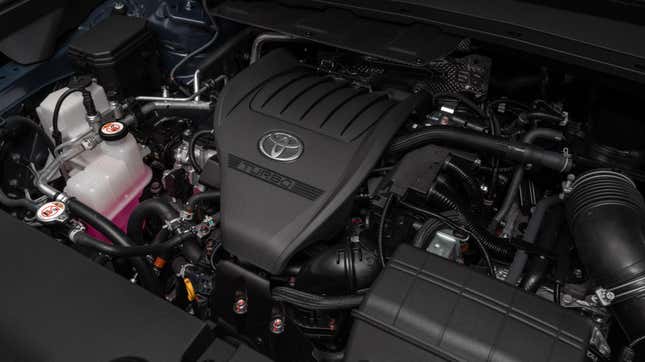 On the safety front, the Grand Highlander gets Toyota's latest collection of driver-assist and safety tech. That includes pre-collision detection with pedestrian detection, lane departure alert with steering assist, adaptive cruise control, lane tracing assist, road sign detection, and automatic high beams. It also adds something Toyota calls Proactive Driving Assist, which it claims can gently slow down the car as it heads into a turn.
As far as pricing and an on-sale date go, Toyota has yet to announce those details. But we fully expect to see a lot of Grand Highlanders on the road whenever they do go on sale.